Image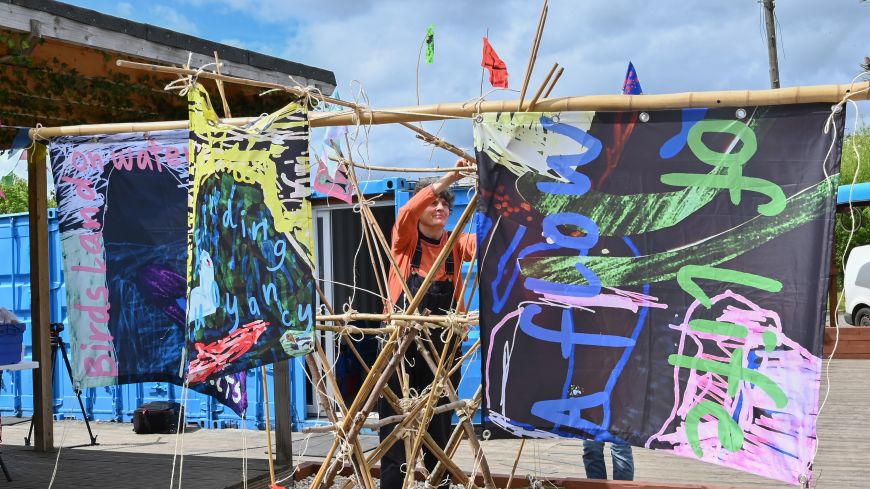 The Union Canal, which opened 200 years ago this month, is the inspiration for a series of commissions at this year's Edinburgh Art Festival.
The festival unveiled its programme yesterday with some 100 artists in 35 exhibitions, many free. 
The Union Canal strand is focused between the Edinburgh terminus at Lochrin Basin in Foutainbridge and the Wester Hailes section on the edge of the city. The canal underwent extensive renovation around the millennium with the opening in 2002 of the 35 metre tall, boat-lifting Falkirk Wheel which reconnected the Union Canal with the Forth and Clyde canal to Glasgow.
For the festival, artists have been working with residents of Wester Hailes and the surrounding area. The collaboration can be seen in Watch this Space (live online from 28 July) at Westside Plaza in Wester Hailes. The Community Wellbeing Collective will create "a space for all to develop together and to experience what community wellbeing is and could be". Events will be led by CWC members and, in anchor events at weekends, by Care and Support Workers ORGANISE!, Grass Roots Remedies, Jess Haygarth, The Spit it Out Project, and more. 
Visual artist Jeanne van Heeswijk, who is known for her social practice art, initiated the project and will also present this year's Keynote Lecture on the festival's opening weekend.
In "Finding Buoyancy", Glasgow-based artists Pester and Rossi explore how we can connect to the natural environment "to help us stay buoyant in uncertain times". It expands on a guided audio journey called Finding Buoyancy - Sound Meditations (2021) where members from WHALE Arts were invited to creatively share responses to the Union Canal.
Three elements anchor the commission: a set of publicly sited sails at Bridge 8 Hub and Paddle Café illustrating the voices and ideas of those living, working and playing on the canal; a community raft (Float For The Future) made collaboratively with artist Sarah Kenchington; and a canal-based performance produced with local people in collaboration with Rhubaba Choir. 
Montreal-based First Nations artist Nadia Myre will present "Tell Me of Your Boats and Your Waters – Where Do They Come From, Where Do They Go?". 
Using print, performance and sound, Myre explores reference points spanning Scotland and Canada, migratory routes starting on the canal, indigenous storytelling, archival research methods, pattern, prose and song lyrics. The work, which will be sited alongside the canal and in Gallery 2 at Edinburgh Printmakers, brings to the fore the decolonial impulse inherent in the artist's practice. 
This year's Associate Artist, Emmie McLuskey, will also lead a series of commissions that reflect on different aspects of the canal.
A thematic inspiration is engineer John Scott Russell's development of his "wave of translation". In 1834, he watched as a horse-drawn canal boat came to a stop at Hermiston in Edinburgh. This abrupt stop created a single wave which, as he followed it along the waterway on horseback, held its shape and speed. Russell's research on this non-linear wave phenomenon eventually influenced the development of modern fibre optic technology. 
The commissioned artists come from varied backgrounds. Hannan Jones explores language, rhythm and origin in response to cultural and social migration, through sound, installation, film and performance. 
Janice Parker's work in choreography and dance is collaborative with people, place and context. Parker is known for her socially engaged practice across various art forms and media. 
Amanda Thomson's interdisciplinary work often concerns notions of home, movement, migration, landscapes, the natural world and how places come to be made. 
Designer Maeve Redmond's research-led practice begins in the archive and attempts to unpack how the wider context of site informs how we aesthetically experience a place.  
A print and radio project entitled Background Noise will accompany this series, featuring local and international contributions.  
The Associate Artist programme will take place along the Union Canal and online, with further details to be announced.
The Big List of Edinburgh Art Festival Exhibitions
The French Institute for Scotland  on the Royal Mile is again the festival's headquarters and will host Platform: 2022, a showcase of emerging visual artists working in Scotland. 
The annual showcase has been selected by artist Lucy Skaer, researcher and curator Seán Elder, and Director of Dundee Contemporary Arts, Beth Bate.
Artists include Saoirse Amira Anis, Emelia Kerr Beale, Lynsey Mackenzie and Jonny Walker.
Closing the festival, sculptor and contemporary artist Hew Locke will deliver the Endnote Lecture at St Cecilia's Hall. Locke's Duveen Hall commission for Tate Britain, The Procession, opened in March this year, and in September 2022 his work Gilt will be unveiled as the Façade Commission for The Metropolitan Museum of Art in New York.
A number of major new commissions and exhibitions open with the festival. 
Representing Japan at the 2005 Venice Biennale, Ishiuchi Miyako (Stills, 29 July – 8 October) will present her first solo show of photography in Scotland.
Ashanti Harris interlaces ideas of community and cultural identity with her research and long personal experience of West Indian Carnivals (Edinburgh Sculpture Workshop, 28 July – 28 August). 
Visitors can journey across the Lammermuir Hills and see the marked traces of human presence in work from Barbara Rae (Open Eye Gallery, 2 – 27 August), and see the changing Clyde-valley landscapes of Duncan Shanks, which chart the constant cycle of loss and renewal, observed in his riverside garden (The Scottish Gallery, 29 July – 27 August).
Celebrating its 180th birthday in 2022, The Scottish Gallery also presents work rooted in art history by Australian ceramicist Kirsten Coelho (29 July – 27 August).
The textural works of Rosa Lee, Shelagh Wakely and Barbara Levittoux-Świderska are brought together during the festival (Arusha, 29 July – 29 August).  
Tessa Lynch considers feminist readings of the city in 'expanded print', which promotes alternative building techniques inspired by play and the natural world (Edinburgh Printmakers, 28 July – 18 September). 
Influenced by the landscapes of the North American prairies, a series of abstract works by John McLean bring rhythmic expressions in paint to the festival (The Fine Art Society, 22 July – 27 August). 
New work by graduating students also takes place in Summer at ECA, showcasing work from the schools of Art, Design and Architecture and Landscape Architecture (Edinburgh College of Art, 19 – 26 August). 
You wont be able to miss Luke Jerram's 90ft inflatable sculpture fruit titled E.coli, which is 5 million times bigger than the actual bacteria (National Museum of Scotland, 3 – 31 August).  
In major surveys and premieres, Tracey Emin will present her second ever solo show in Scotland since 2008, featuring the unveiling of a large bronze sculpture, paintings and drawings (Jupiter Artland, 28 May – 2 October). 
The first Scottish solo show from London-based artist Daniel Silver highlights the artist's shift to working in clay with colourful totems, figures and busts (Fruitmarket, 11 June – 25 September). 
Studio Lenca presents a series which confronts the complex cultural history of their native El Salvador (Sierra Metro, 25 June – 28 August). 
The first major survey of Céline Condorelli in the UK will take place bringing the outdoors into the gallery space (Talbot Rice Gallery, 25 June – 1 October). 
Monumental canvases rich in colour and detail are presented in Thoughts, meals, days by Glasgow based artist Lorna Robertson (Ingleby, 25 June - 17 September). 
Audiences can also become absorbed in the UK premiere of Yan Wang Preston's work, which charts the changing life of a love-heart-shaped rhododendron bush (Royal Botanic Garden Edinburgh, Saturday 14 May - Sunday 28 August).  
Movements and moments in both art and time feature in the festival. 
Audiences can experience the power of Raphael's work, reimagined in VR and contemporary tapestry (Dovecot Studios, 1 July – 24 September). 
Visitors to Anatomy: A Matter of Death and Life can see how anatomical art and illustration shaped knowledge of the human body (National Museum of Scotland, 2 July – 30 October). 
Twentieth-century marvels from a group of prominent Scottish artists are revealed in National Treasure: The Scottish Modern Arts Association (City Art Centre, 21 May - 16 October), whilst the ambitions and morality of Andrew Carnegie are questioned in animation and archival presentation by Ruth Ewan (Collective, 25 June – 18 September). 
The current mood of the country is closely captured by photographers working in Scotland in Counted: Scotland's Census 2022 (Scottish National Portrait Gallery, 12 March – 25 September).  
Collectors and collections are considered during the festival. Audiences can wonder at historic Masterpieces from Buckingham Palace, which features work from Rembrandt and Artemisia Gentileschi (The Queen's Gallery, 25 March - 25 September). 
Modern French art and the early collectors of the Impressionists are explored in A Taste for Impressionism (Royal Scottish Academy, 30 July – 30 November). 
Recent acquisitions by the National Galleries of Scotland in New Arrivals: From Salvador Dalí to Jenny Saville (Scottish National Gallery of Modern Art, Modern 1, until Spring 2023). 
Refreshed for the festival, the exhibition includes a new acquisition by acclaimed American artist, Amie Siegel. 
Retrospectives  
In retrospectives, shows highlighting the influence of distinguished international artists are celebrated. 
The life and legacy of painter, jeweller, polymath and jazz musician Alan Davie are explored in a major centenary exhibition (Dovecot Studios, 24 June – 24 September). 
Barbara Hepworth's life work comes into focus in an exhibition brought to Edinburgh with The Hepworth Wakefield, Tate St Ives and National Galleries of Scotland (Scottish National Gallery of Modern Art, Modern 2, 9 April – 2 October). 
Scottish artist Will Maclean's work is brought together - his work rooted in the history, archaeology and literature of the Scottish Highlands (City Art Centre, 4 June – 2 October). 
The works of Scottish artist, writer and poet Maud Sulter act as inspiration for a new publication as part of a wider ecology of projects (Rhubaba, across the festival). 
The Modern Institute also presents work by American poet and artist John Giorno (1934 – 2019) alongside contemporary pieces from quilt collective Arrange Whatever Pieces Come Your Way and artists Julia Chiang and Marc Hundley (Dovecot Studios, 8 July – 17 September).  
Themes around ecologies and the environment are central to the 2022 partner programme. Turner Prize nominees Cooking Sections, in collaboration with Sakiya, look at the history of land struggles in Scotland and Palestine within a wider global dialogue, highlighting how alliances between humans and plants can also enhance new collective horizons. (Royal Botanic Garden Edinburgh, 2 July – 18 September). 
Calum Craik navigates debris and holiday rental accommodation through a sculptural stage (Edinburgh Sculpture Workshop, 10 June – 28 August). 
Camara Taylor brings further focus to Scottish waterways through new video and mixed media work, recomposed from the sighs and groans of a sinking kingdom, rooted in ideas of silt, slop and snap (Collective, 17 June – 4 September). 
The result of a three-year commission, Annette Krauss explores Calton Hill as a site held in the 'common good', through a research resource presented online and at the City Observatory Library (Collective, 1 June – 4 September).
Amanda Catto, Head of Visual Arts, Creative Scotland said: "The Edinburgh Art Festival is a highlight of Scotland's cultural calendar and always a joy to experience. This year is no exception with the festival bringing together an amazing array of art and artists in a really rich and dynamic programme."
The Edinburgh Art Festival 2022 runs 28 July – 28 August 2022