Image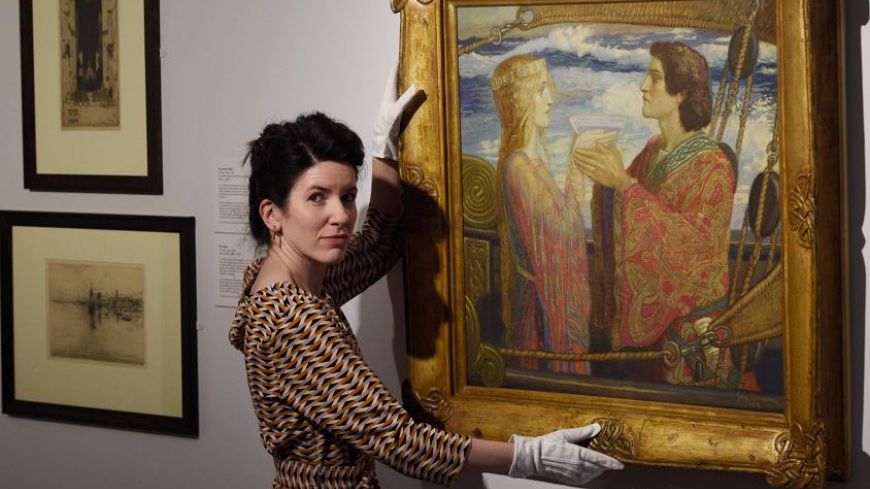 A new exhibition opens tomorrow (Saturday 21st May) at the City Art Centre exploring the ground-breaking work of the Scottish Modern Arts Association.
"National Treasure: The Scottish Modern Arts Association" brings together over 100 artworks from a collection gathered by the artist-led organisation before it disbanded in the early 1960s. The majority of the collection was left in the care of the City of Edinburgh.
Curator Dr Helen Scott says "National Treasure" is opening exactly 116 years, to the day, since the initial meeting took place at the home of artist James Cadenhead which led to the establishment of the Scottish Modern Arts Association.
"The Association isn't much remembered today, but during its 57-year existence it did some fantastic work. It supported the careers of many contemporary artists, it laid the groundwork for the creation of the Scottish National Gallery of Modern Art, and it developed an amazing art collection – preserving hundreds of paintings, drawings, prints and sculptures for future generations," says Scott.
"Many of these artworks are individually famous, but this is the first time since the 1960s that such a large number of them have been brought together for a single exhibition. And very few people know how they came to be acquired in the first place. I'm really looking forward to sharing the fascinating story of the Scottish Modern Arts Association with visitors."
The Scottish Modern Arts Association was founded in Edinburgh in 1907, by artists and their supporters. The organisation aimed to secure for the nation a representative collection of modern Scottish art.
For more than fifty years, the organisation actively acquired work by leading artists of the day, building a collection of more than 300 paintings, drawings, prints and sculptures.
The Association displayed its artworks at venues around the UK and abroad, lending pieces to museums and galleries, as well as mounting touring exhibitions. It organised events to promote contemporary Scottish art, and campaigned for a dedicated gallery. Members aspired to pave the way towards a national collection of modern art, at a time when the National Galleries of Scotland was reluctant to collect or exhibit the work of living artists.
The exhibition, on two floors, includes famous and lesser-known pieces by the Scottish Colourists and the Glasgow Boys, as well as key works by individuals such as William McTaggart, James Cadenhead, John Duncan, Bessie MacNicol, DY Cameron, David Muirhead Bone, Josephine Haswell Miller, Anne Redpath, William Gillies, John Maxwell and Joan Eardley.
The exhibition is accompanied by a programme of public events and activities, both in-person and digital.
National Treasure: The Scottish Modern Arts Association opens on Saturday 21 May 2022, and runs until 16 October 2022. It is part of the Edinburgh Art Festival. Admission is free.