Image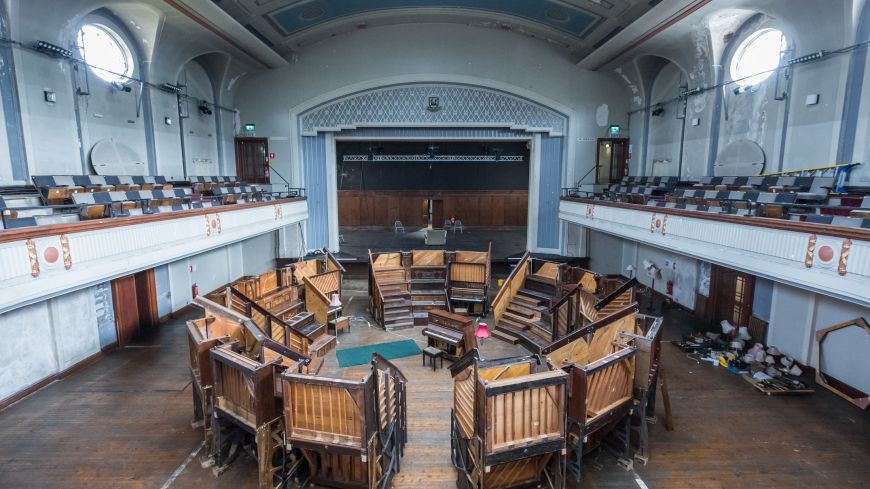 Leith Theatre will host a month-long "Resonancy" of events with upcycled piano amphitheatre Pianodrome, starting tomorrow and running til Sunday 8 December.
Pianodrome is a circular amphitheatre made entirely out of old and abandoned pianos, from the stepped seating, down to the flathead screws that hold the construction together. There are also five operational pianos embedded in the round, on which visitors can bash out their favourite tunes, often at the same time as each other.
The unique installation was first unveiled by creators Tim Vincent-Smith and Matt Wright, members of Leith based new music ensemble S!nk, in a marquee in the Royal Botanic Garden Edinburgh in August 2018 and this past festival Pianodrome moved to Pitt Street Market in Leith. 
Tim Vincent-Smith says: "The Pianodrome and the Leith Theatre were made for each other. If you are yet to see either one - now is the ideal opportunity. They look and sound incredible together and we are enormously grateful for this very special opportunity to share them both." 
Pianodrome at Leith Theatre will be open to the general public to play on, in and around in the afternoons from 1pm to 5pm every Tuesday, Wednesday, Thursday and Friday throughout the "Resonancy" free of charge. 
At 4pm each day, an artist or musician will give a free performance, with a collection after. 
In addition to the free programme, a number of ticketed events will take place throughout the month including performances from the Hebrides Ensemble (12 November), LeithLate (16 November) and Oi Musica! (17 November).
The residency will culminate with "Resonator"; a five-day fundraiser festival of music, movement and magic.
Resonator will also include the launch of the latest EP, by Pianodrome creators S!nk.
Matt Wright says: "The Pianodrome is not just a venue - it's an interactive sculpture for creative community. If it is well used and well-loved it will flourish. During the Resonancy we hope to raise the £5,000 we need to cover the year round costs of keeping this project alive."
Further information at Pianodrome website.
Events
Tuesday 12th November, 7pm: Hebrides Ensemble: Classical String Trios, £10/£5
Saturday 16th November, 7pm: Leith Late: Moon Party, £10
Sunday 17th November, 3pm: Oi Musica!: Family brass event, £8/£4
Pianodrome Resonator festival
Wednesday 4th December, 7pm: RESONATOR kickoff with Golden Hour :£8/6
Thursday 5th December, 7pm: Balkanarama Sessions: £16/£13/£10
Friday 6th December, 7pm: Unorthodox Events at Pianodrome: £8
Saturday 7th December, 1pm: S!nk EP Launch all-dayer, £10
Sunday 8th December, 1pm: Choir Jam. £5/£3
Sunday 8th December, 7pm: Tinderbox Orchestra + Hailey Beavis, £10/£8