Image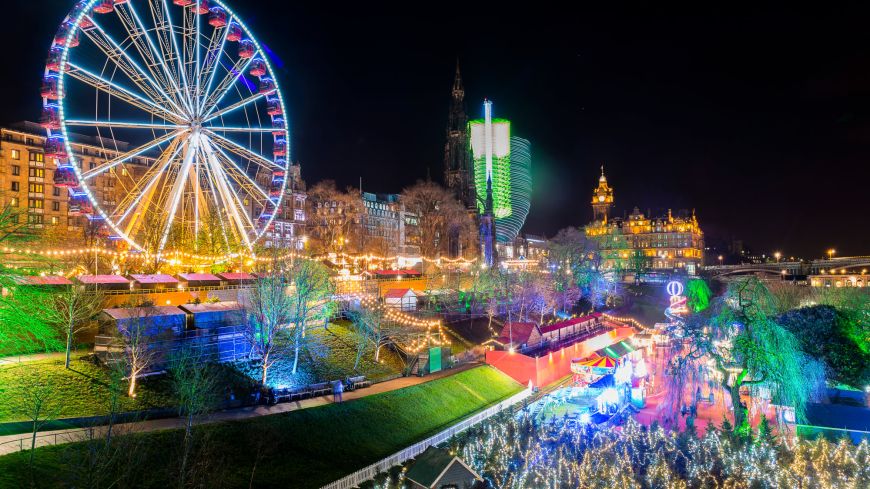 Edinburgh's Christmas programme is out. The official turning on of the Christmas Lights on 17th November between 3.30pm and 5pm gets things under way. Light Night will this year feature a pyrotechnic display, with Santa making a "flying" visit to the event's new location on the Royal Mile.
Local choirs and youth groups will provide entertainment on the night including a special appearance from Ama-zing Harmonies, a choir created through the work of Transit into Confidence, a charity supported by OneCity Trust, Edinburgh's Christmas official charity partner.
Light Night will also feature the Royal Lyceum Theatre Edinburgh's community choir, fresh from their preparations for An Edinburgh Christmas Carol and Little Voices, Big Stars, the Edinburgh singing group for children between 4 and 16 year olds.
Intercultural Youth Scotland, will perform rap and poetry, followed by songs from Rock Choir Live. Audiences up and down the Mile will be able to enjoy the event on two giant screens located in key spots on the street.
Christmas too Commercial?
Amidst growing concerns about Edinburgh city centre turning into an over-commercialised, theme park, East Princes Street Gardens will be full-on festive with the Christmas Market, Santa Land, the Big Wheel, the 60m Star Flyer, and various other fairground rides returning to the park.
This year the market will have additional stalls on the south side of East Princes Street Gardens, offering scottish food, drink and gifts.
Castle Street will be another festive focal point being the home again of Santa's Grotto (from 16 November until Christmas Eve), with various fairground rides and Yule-themed stalls. 
This is the seventh season that Underbelly has run Edinburgh's Christmas, and Charlie Wood and Ed Bartlam, have responded to growing criticisms of over-commercialisation by pointing out that Edinburgh's Christmas benefits local businesses, keeps Edinburgh in the international spotlight, and that many locals enjoy the events too.
"The nearly 300,000 unique visitors from Edinburgh and the Lothians in 2018 show what a popular local event it is but it's also the time of year when the city welcomes in hundreds of thousands of visitors and, once again, we're able to provide them with one of the best Christmas celebrations in Europe," said Wood and Bartlam.
Underbelly said that, in 2018, 186,799 tickets were sold to locals who snapped up a 20% EH postcode holders discount. A total 771,000 tickets were sold for the various Christmas events, attractions, rides and markets.
In 2019, Underbelly have also introduced another event, Community Christmas, aimed at bringing the festive vibe to outreaches of Edinburgh.
Presented in collaboration with Double Take Projections, Underbelly's partners on Message from the Skies in 2018 and 2019, Community Christmas sees 12 "locally significant" buildings, lit up with festive projections over 12 consecutive nights, with a different local choir performing festive tunes during the half-hour event. 
Underbelly have also brought back its Winter Windows, conceived in 2014, where Edinburgh's young and budding artists publicly will display their stained-glass window designs in West Parliament Square and then at 4 more locations around Edinburgh: White Park - Gorgie, Great Junction Street – by Leith Library, Main Street - Kirkliston and Goodtrees Community Centre – Gilmerton.
New to Edinburgh's Christmas this year, Canadian artists Janet Cardiff and George Bures Miller present Night Walk for Edinburgh, a one-on-one video experience which takes audiences on a curated tour of Edinburgh's Old Town at twilight.
Absent this year, will be the ice rink at St Andrew Square. The size of the rink was deemed to be too damaging to the Square by Essential Edinburgh, the business body that manages St Andrew Square.
The Nativity Scene moves this year to the Mound beneath the Christmas Tree which is donated by the Hordaland County Council in Norway each year and the Nativity Carol Concert, organised in conjunction with Edinburgh Churches Together, takes place at 3pm on 1 December on Mound Place.
For families, Baby Loves Disco returns for a festive bop in the Christmas Glitter Ball. It takes place at Assembly Rooms twice daily on 15 and 21 December.
As always it's a busy time for Christmas theatre. Grid Iron Theatre Company and Traverse Theatre Company have a co-production of centuries-old Chinese tale Strange Tales and Douglas Maxwell's I Can Go Anywhere can be found at The Traverse.
The Lion King will play at the Playhouse, while the Royal Lyceum performs a production of An Edinburgh Christmas Carol. 
The Usher Hall hosts a series of Children's Classic Concerts, and Gilded Balloon brings The Comedy Show: Christmas Special to the Rose Theatre.
Edinburgh's Christmas is also offering free of charge sensory packs to children and adult visitors with additional needs. The packs contain items designed to help users relax in situations they might find stressful.
Edinburgh's Lord Provost, Frank Ross, said: "There is simply no better place to celebrate Christmas than Scotland's Capital. And, with 20% off ticket prices for EH postcode residents and a brand-new event celebrating 12 of our local communities, this winter will see Edinburgh's Christmas cheer spread even further across the city."
He added: "The Festival is a chance for us to celebrate our local talent and creativity and I'm looking forward to the launch of our city's Christmas with Light Night providing a stage for so many local performers."