Image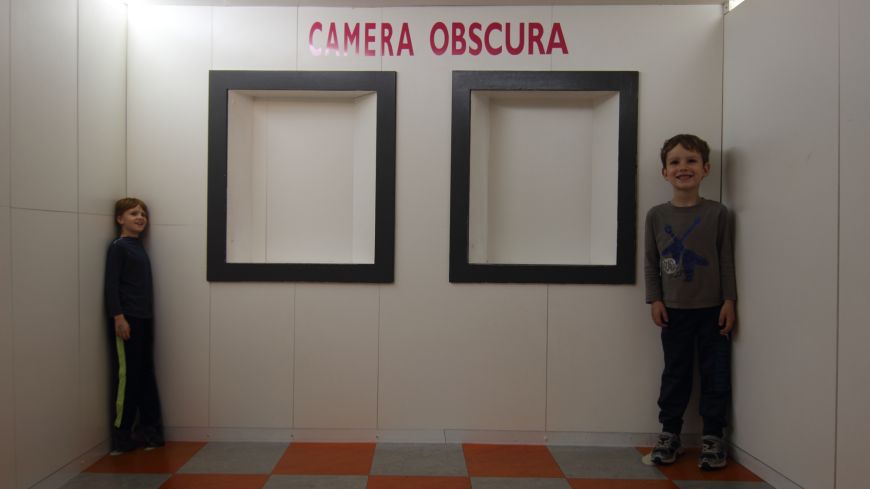 Kids' entertainment doesn't come more vintage than the Victorian technology for furtively viewing far-off people and objects known as Camera Obscura. The antique telescope is just the centrepiece of an emporium of historical curios and interactive fun aimed at people of all ages.
Edinburgh's Camera Obscura was originally created in 1853 by entrepreneur Maria Short who added two floors to a 17th century tenement building at the top of the Royal Mile to create the distinctive dome-topped tower, with its periscope, that you see today.
The name Camera Obscura is Latin for "dark room", and it's into this dark room that live images from around the city are projected through a long periscope onto a bowl-shaped wooden table below. The technology is simple: a long tube juts out of the tower roof where a tiny window in the periscope's hood lets in daylight. A mirror pointed at 45° reflects the outside world down a set of 3 lenses to create the live scene on the viewing table below.
I wasn't quite sure how a five-year-old and nine-year-old accustomed to the pyrotechnics of modern video games would take to such old-world technology. On today's bright, but cloudy day, the image of outside activity appeared almost like a faded photograph come to life or as if a washed-out, impressionist painting had become animated. It helped them that the youthful guide kept the commentary light-hearted - in spite of my technical queries - as he took in some of Edinburgh's attractions with a gradual 360° turn of the periscope.
There's also something about huddling with strangers around this antique moving image contraption, just as Victorians did when the attraction first opened, that creates a certain mystique to the experience. One can only imagine how it must have impressed those early viewers 50 years before the advent of cinema. The kids seemed to get a bit of that, though the highlight of the show for them was scooping up tiny tourists in their hands as they busied themselves on the Royal Mile and (following the guide's lead) pretend to flatten them on the table.
The Camera Obscura Show sets the tone for the rest of the tour down four floors of marvels, visual trickery, brain-teasers and gratuitous voyeurism. Many of the 150-plus "illusions" cleverly exploit quirks in our perception of distance and colour, playing with light, mirrors, and perspective. Others have more of a videogame element to them.
First, after emerging back into the light of day from the camera obscura, there is more opportunity for scoping the streets from Maria Short's "outlook tower". Assorted free binoculars and telescopes placed around the rooftop deck allow one to lap up the fine views across the watter of the Firth of Forth to the fields of Fife where giant wind turbines gently spin.
Later, there will be another chance to spy on passers-by below with a ubiquitous, modern technology that is akin to the Camera Obscura projector albeit more powerful - Closed-Circuit Television (CCTV). Settling into control seats in the CCTV room, powerful zooms bring far off buildings into close proximity on monitors above. Naturally, my budding surveillance officers searched for their home, before trying to pry their camera eyes into nearby windows.
As we began the descent from the rooftop to the various fun and games, patting plasma globes and dancing back and forth with gothic holograms, I realised that it's difficult to tell which exhibits will appeal most. In my previous visit, my eldest who was then aged 5 was oddly mesmerized by a clockwork model of three blind mice singing the nursery rhyme in babe-like harmony. He played it again and again. Four years on, he played it once, smiled and then moved on.
Meanwhile, a simple audio delay effect where you don headphones and talk into a microphone, twiddling a knob as you make your voice echo had my youngest rollicking with laughter and coming back for more.
I tried to steer both boys to the less mainstream exhibits. Yet the shiny, bright videogame stuff still holds its sway. A touch screen built into the floor where you use your feet to interact with different scenes hooked both boys right away, with both bounding about to kick a virtual ball across a football pitch and then stomping on a scene of Edinburgh castle to set off fireworks.
Further in the tour, a fair amount of time was spent in a booth transforming snapshots of their faces into a monkey, or baby, or ageing themselves. It seemed to me like fairly old-school, Photoshop stuff, but drew constant hilarity from both boys.
It was good to see both kids' curiosity equally aroused by the classic, analogue animation effects that make use of mirrors, image sequences, and motion. By spinning a cylindrical drum, a static series of drawings or small model figures suddenly sprung to life. Simple, but fun. The 19th century version of animated GIFs.
The kids were likewise intrigued by some of the more subtle challenges that tested their spatial perception, with objects appearing weirdly smaller or larger than they should. At least, when the boys slowed down long enough for me to explain the nature of the challenge. With so much to see, there was a tendency to rush headlong through the rooms looking for the next coolest thing.
A particular highlight for all of us was the optical weirdness of the Ames Room, where anyone standing in one corner of the room appears miniscule compared to the person on the other side of the room. It's done well as the photographs testify. A real mind-bender.
Probably the most memorable installations are on the "Bewilderworld" floor at the end of the tour. The mirror maze lit in fluorescent light will have you pleasantly befuddled with its infinite number of passageways. The five year old was initially a little nervous about getting trapped, but was soon playing cat and mouse with his big brother after spending a few minutes bumping into his reflection.
The venue has also become well-known for its vortex tunnel, a short but dizzying walk across a metal-grated bridge. The bridge itself doesn't actually move. But this information is not helpful. The coloured lights spinning around the bridge, plus the accompanying soundtrack of churning machinery, leaves one with the distinct feeling of being tipped over. I was glad of the guard rails, one of which I found myself hanging onto tightly. Stepping off, I felt briefly dizzy and unbalanced. Job well done.
The 9-year-old loved it, walking over it numerous times in a bit of a show-off way, but the 5-year-old preferred to watch others staggering across the bridge from the side.
The strength of the whole Camera Obscura experience is the way it combines creativity, science, and classic and modern technology in a varied interactive experience. Even Maria Short's original Victorian attraction left an impression. As we walked back down the High Street two hours later my eldest suddenly blurted out, "Quick! Move! Before somebody picks us up!"
Two thumbs up from my boys and a third from me.
Opening Times
Get there early when it tends to be less busy and give yourself two hours to do the whole tour.
Jul – Aug: Every day 9.00am – 10.00pm
Sept – Oct: Every day 9.30am – 8.00pm
Nov – Mar: Every day 10.00am – 7.00pm (Closed 25th Dec)
Apr – Jun: Every day 9.30am – 8.00pm
Tickets Tickets are valid all day. You can go away and return later in the day.
Adult: £15.50
Student (with ID): £13.50
Senior: £13.50
Child (5–15 years): £11.50
Under 5s: Free
Carers of visitors with disabilities go free.
Photo: The Ames Room at Camera Obscura. Got a recommendation for kids' activities that you think EG readers should know about? Let us know.