Image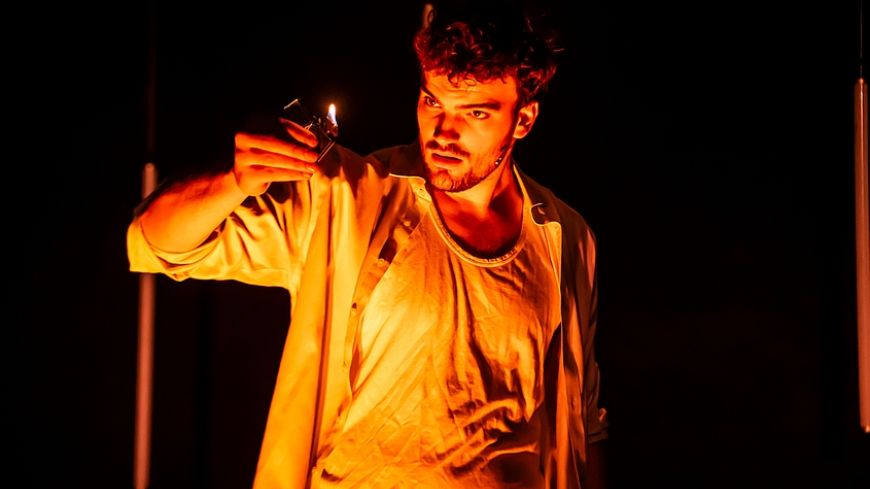 Company
Indigo Productions.
Production
Patrick McPherson (writer), Ellie Coote (director), James Lane (co-creator), Will Hayman (production designer), Sam Rothera (music arranger / producer and sound designer).
Performers
Patrick McPherson.
You can't leave, OK?
But we are getting ahead of ourselves, this we will come back to. Ben wants to make an introduction first.  To himself and to Jack, a beacon of his childhood, a friend he wore like protective armour.
There are points where they have drifted apart, but when they meet in a bar after 7 years, now in their mid-twenties, all those memories force their way in.  If Ben can explain the context, the togetherness, the rest will fall into place.
Jack makes things happen, one word or a glance is enough.  Every big night out would start the same and they would go for broke, topping the evening with a fight before stumbling home with no memory, no melody a dissonant ending.
When Ben goes to university, he finds fitting in socially awkward but forges himself a new personality modelled on Jack.  But whereas the younger Jack would dazzle now he seems more measured, drinking slower.  Great minds drink alike, and he is going to need thawing out.
A rampage through some seedy nightclub bars ends in something suddenly very immediate. This is different, but as long as he has the fortified barrier of their friendship he is safe, but there is no leaving and returning from this will be like coming from way, way deep.
As with last year's award winning Colossal it's a poetic spoken word piece blending styles, music, comedy and a smouldering dark tale.  It's a riveting story of friendship, memory, responsibility and masculinity. 
Lighting, score, and sound design, where childhood voices are overlaid in the present, excel.
While it doesn't have the instant impact of Colossal, it is taut, affecting and McPherson's trademark style proves him again way, way more than a consummate storyteller.
Show Times: 3 to 27 (not 14) August 2023 at 5.20pm.
Tickets: £13 (£11.50) to £14 (£12.50).
Suitability: 12+ (Contains distressing or potentially triggering themes, scenes of violence, strong language/swearing).