Image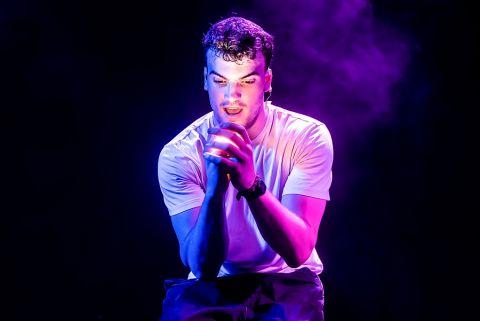 Company
Indigo Productions
Production
Patrick McPherson (writer / music), Susie MacDonald (director), James Lane (co-creator), Will Hayman (production designer), Sam MacDonald (sound designer / musical arranger).
Performers
Patrick McPherson.
What is the best part of a story, the beginning, the middle, or the end?
Dan is going to pitch for the middle as the juiciest part, but it can also be the murkiest.  This will mostly be a love story, a first date, but also looking backwards before going forwards. He really likes this girl and wants to take a bit of time.
And so, he takes us on a walking tour of 2019 when he has just qualified with a second-class degree in a third-class subject and on a night of reluctant clubbing has met Sam. He gives us fragments, highlights, and snapshots, from pastry themed kisses to the awkward meeting the parents.  He rhapsodises about intoxicating Sam. Dan and Sam – Dam(n) it's good!
But everything starts and ends and has a shelf-life and there are arguments, psychological games with accusations of being "dramatic" and gaslighting.  When you are in love everything is colossal, even too aggressive games of Scrabble.
Love is a game of give and take, but facing up to things, coming to terms with thoughts, truths and fault is something which he hates. It is time to take a break and think.
This is a unique show – Part gig / stand-up comedy sketch / spoken word with a sprinkling of magical realism and owls. McPherson is a consummate storyteller as he pirouettes gracefully and surfs on the poetic words (there's even haiku thrown in), striking lip sync poses or seemingly floating, bathed in blue/green light.
He appears to magically control the deceptively simple staging with gig/club like lighting and intricate sound design with just a twist of his fingers.  Only occasionally is a word lost within the excellent, often anthemic, soundtrack.
Despite its ice-cream references this is no sweet romcom as at its heart is a question of where one places oneself on a sliding moral scale. And that might be the best part of the story.
Show Times: 4 to 28 (not 15) August 2022 at 12.45pm.
Tickets: £7 to £11 (£10).
Suitability: 12+. Contains strobe lighting, Strong language/swearing