Image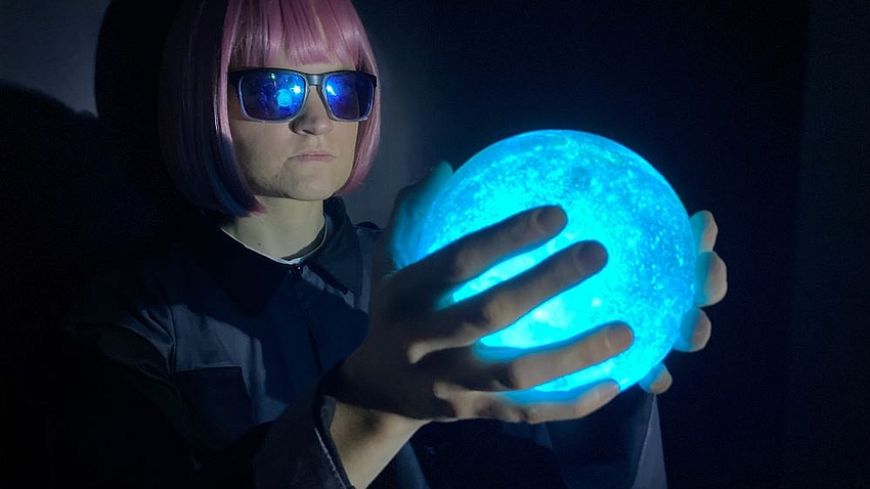 Company
The Company of Bards.
Production
Sarah de Nordwall (writer / producer), John Holden-White (director), Rob Wilson (technician).
Performers
Sarah de Nordwall, Meg Blowey, John Holden-White.
The scene is set by a projected cosmos and the familiar strains of Also sprach Zarathrusta (as used in 2001: A Space Odyssey), part of the tone poem response by Richard Strauss to Nietzsche's philosophical treatise on the rise of science and the demise of religion.
This series of vignettes bookended with philosophical poetry will also be a journey in search of meaning and enlightenment.
The first piece is delivered by a woman who retrieves a discarded poem about wanting more, more, more. Wanting what she has not and sometimes, finding poems by someone else, trying the lines on for size.
It appears the universe is not at home, or perhaps she is not at home with it.  She could be a bit augmented like Barbie or the Borg, perhaps Robotica, a digi-spirital upload. 
Offering uploads is a space/time travel shop for those who have done everything.  Here is the chance for the Lifespan Tour, to live out the playback of any creature, the only caveat being that it needs seen through to the end with no going back.  Well, like any travel contract there might be some unmentioned small print. When people who partake in the womb-like experience come back with elevated consciousness and inexplicable yearning syndrome the company management threaten to pull the plug.
Looking back, a priest-like historian marvels at the idea that there could be such a thing as a woman, a being with a living space within her body.  The piece closes with a poem on a dark cave containing an underwater cosmos, pierced by light like a falling star.
The performance poetry is the strongest part, but the delivery of the remainder is stilted.
Conceived to strive for the profound and universal it is two dimensional and nebulous.
Show Times: 14 – 26 (not 20) August 2023 at 6.30pm.
Tickets: £12 (£8). £24 (family).
Suitability: 12+