Image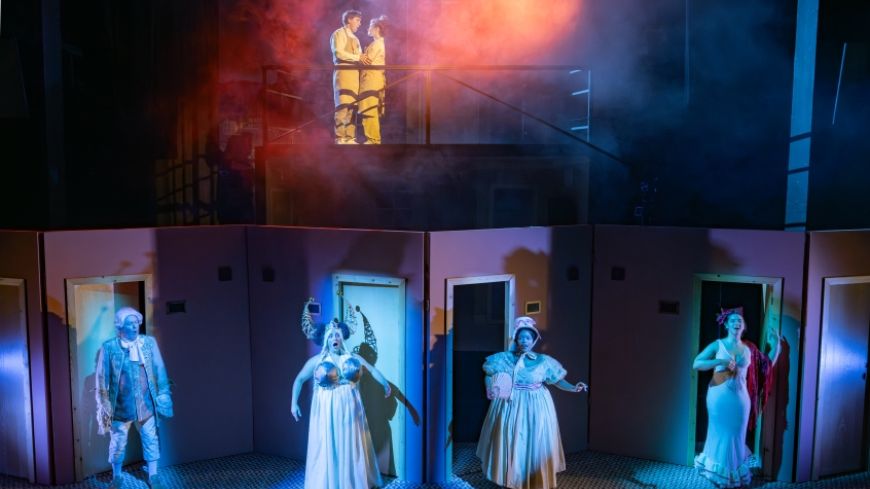 Company
Traverse Theatre Company with Dundee Rep Theatre.
Production
Isobel McArthur (writer), Gareth Nicholls (director), Michael John McCarthy (composer and musical supervisor), Ana Inés Jabares-Pita (set and costume designer), Lizzie Powell (lighting designer), Richard Bell (sound designer), Tim Reid (video designer), Michael Howell (casting director / vocal coach), Emily Jane Boyle (movement director), Cleo Rose McCabe (costume supervisor), Caitlin Abbot (design assistant), Shonagh Murray (copyist / musical director for recordings), Kevin McCallum (head of production), Renny Robertson (head of lighting & sound), Dave Bailey and Fi Elliott (technicians), Yvonne Buskie (company stage manager), Gillian Richards (deputy stage manager), Cecile Pierret (assistant stage manager).
Performers
Ali Watt (Aaron), Karen Fishwick (Amy), Betty Valencia, Christina Modestou, Ann Louise Ross, Barrie Hunter, Laura Lovemore (ensemble).
Welcome to Scomodo Group Hotels, Station Road Central.
Hospitality however seems in short supply for room attendant Aaron on his first day as he finds no one cares how he feels.
He might as well be as anonymous as the bland décor as he picks random name badges to comply with corporate policy.  Run off his feet at the beck and call of a buzzer to serve guests who are "moody bastards", there is no time for socialising.
Things turn theatrical however when the lights go out and an opera singing soprano bursts into the corridor scaring him witless.  The hotel has a soul after all, one of a Victorian opera house with its gold and red velvet heart ripped out, complete with ghosts.
Rather than consider that the flickering lights and sticking doors are shoddy workmanship he latches onto the supernatural.  When he speaks with opera loving room attendant Amy from behind another jammed door, he is not sure whether he is communing with a spirit.  With more doors than Bluebeard's Castle they seem doomed not to meet despite her leaving tapes of opera for him, which of course he takes as paranormal.
Friday nights are like Turandot, and none shall sleep with paper-thin walls, hen parties and noisy indiscretions. Facing yet another absurd guest problem Aaron finds that the spirit of opera is winning out, rearranging his very atoms as everyone gets in on the act parodying classics in their complaints.
All that's required is a happy ending – or an exorcism.
This fast-paced production is hilarious, farcical, romantic, and just a little twee.  The operatic numbers transform it, even if the pastiche feels a little like a song and dance too far.  The leads are excellent, and the ensemble put in fantastic performances to accommodate eccentric staff and guests, not to mention ghosts.  The clever multi-level design allows a foreshortened room to hurtle the tempo of bedroom farce and for the mayhem to spill into the corridors.
A tremendous modern-day opera buffa which is deserving of more stars than its budget hotel setting.
Show Times: 4 – 27 (not 5, 7, 14, 21) August 2023 at varying times.
Tickets: £25 (£20).
Suitability: 14+ (Contains distressing or potentially triggering themes, strong language/swearing).