Image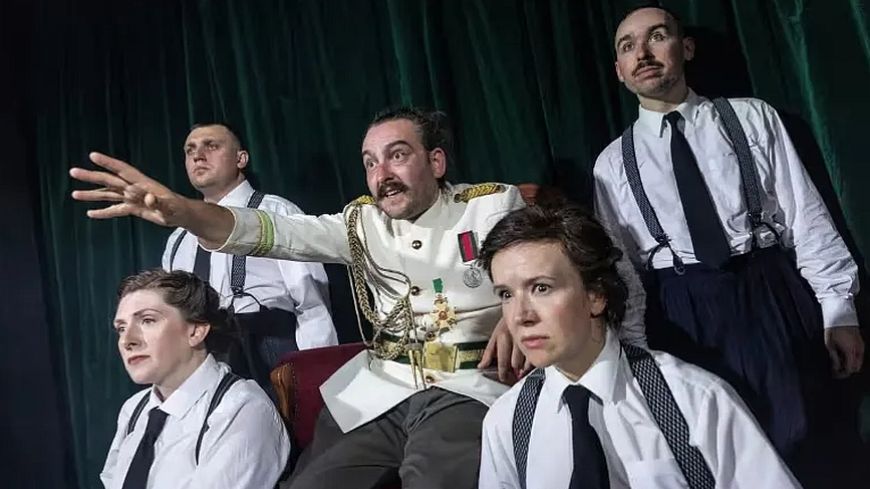 Company
Out of the Forest Theatre
Production
Joseph Cullen & Sasha Wilson (writers), Hannah Hauer-King (director and dramaturg),
Claire Gilbert (producer), Will Alder (lighting), Zoë MacKinnon (stage manager), Sorcha Corcoran (set design), Helen Stewart (costume design)

Performers
Joseph Cullen (Boris III). Ensemble cast – Lawrence Boothman, Clare Fraenkel, David Leopold & Sasha Wilson playing numerous character roles
'Whether a jazz fan, a history buff or just someone who loves gripping, real life stories, this is a must see.' Prince Kyril of Preslav, grandson of King Boris III. 
It was exactly 80 years ago this week, 28th August, 1943, when King Boris III died under mysterious circumstances which remain controversial to this day.  This timely tragi-comedy dramatises the potted history and political wartime shenanigans leading up to his death. 
The show kicks off with a jolly medley of traditional gypsy folk tunes on violin, banjo and guitar to capture culture, time and place: on the abdication of Ferdinand I in October, 1918, his 24-year old son is being crowned Boris III, King of Bulgaria. Fast forward to the outbreak of World War II where Boris is desperate to retain the country's neutrality and retrieve neighbouring territories his father had lost.  Surrounded by his government officials, he studies a large map of Europe where Bulgaria is still an island of peace amidst a sea of conflict. As they discuss options to avoid invasion, any mention of the Turks is treated with a supercilious spit, and although Queen Giovanna is Italian, joining forces with Mussolini is quickly dismissed. 
In his pin striped suit, mincing walk and high pitched voice, Filov, the PM suggests that the best solution is to make a pact with Germany so when the mild-mannered Boris hesitates, he's sternly reminded of his duties as a monarch. Joseph Cullen portrays this quietly subdued man as trapped in a personal dilemma, torn between moral conscience and political diplomacy.  Pressurised by his bullying ministers like a swarm of buzzing wasps, they present a flurry of papers, insisting he sign the Tripartite pact with a final flourish of a pen.
Like a choreographic dance, the actors play a plethora of roles, from the Queen to Religious leaders, international emissaries and a Captain of the Third Reich.  Without being a satirical send up, the narrative is slickly dramatised with clownish humour and quick wit. Indeed, while reference is made to Dad's Army and Blackadder, one could throw in Monty Python's Spanish Inquisition to paint a colourful picture of the comedic style of performance.
As the plot thickens, the initial fast paced scenes slow down through rather too much repetitive action and dialogue, and a programme with a who's who cast list of characters would have been most helpful.  
However, the terrifying truth of the world at war is highlighted in stark reality when the King meets Hitler in person for a crucial discussion on the deportation of 50,000 Jews. Staged with such simplicity in dim light, this is a chilling, dramatic scene. Boris is now seen as a clever and cunning diplomat, perhaps playing a dangerous game of double bluff with the Fuhrer, but his heroic action to save the Bulgarian people is not without consequences. 
Directed with imaginative theatricality, inventive props and a weird and wonderful wardrobe of costumes, the multi-talented ensemble switch characters through a split second change of accent and donning an army great coat, fur stole or an array of quirky hats.  This pantomimic blend of storytelling, evocative music, neatly interspersed with hard hitting historical facts, creates an entertaining way to relate  the tragic tale of the life and untimely death of Boris III, King of Bulgaria.  
Showtimes: 
2 – 28 August, @ 17:20
(Run ended)