Image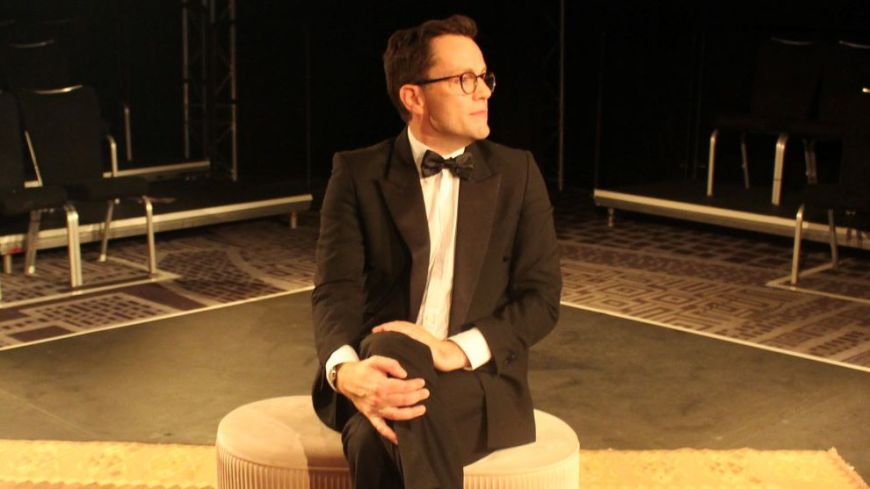 Company
Northern Line Productions
Production
Andrew O'Hagan (writer, director) , Lindsey Milligan (producer)
Performers
Patrick Moy (Truman Capote)
'He really was one of the most natural and beautiful writers … who, in himself and in his work, invents rather than reflects reality. I wanted to distil it, a life that was at the very same time hilarious and painful.  Capote's Black and White Ball at the Plaza Hotel, New York, 1966 - I heard that an hour or so before his guests arrived, he went up to his suite and closed the door. I thought — yes, a one-man play'. Andrew O'Hagan
A perfect stage setting recreates Suite 437 at the Plaza: cream velvet ottoman, telephone table, drinks trolley, with a sultry Cole Porter on the soundtrack. Truman Capote is on the phone in his high falsetto, lisping voice, discussing the guest list for his Party of the Century ... the Tiffany people, Tallulah, Sinatra, Bacall. 
Dressed immaculately in a slim-fitting Tuxedo, black tie, polished patent shoes, he proceeds to reminisce about his childhood in the red dust of Alabama where Harper Lee  next door was his best friend.  He admits to being an infant genius, becoming a writer at the age of 8, and soon sending stories to the New Yorker and Harper's Bazaar.  Later in New York, he loved being in the whirl of upper class & showbiz society as he believed that literature is gossip, and proudly declares, 'I'm the Hemingway of tittle-tattle.' 
His narrative is occasionally interrupted by a phone call from the front desk, replying briskly to a few queries : No, Jacqueline Susann is not invited ...but Elizabeth Taylor is ; Andy Warhol can take photos but he must not bore anyone!'. 
The large central platform is like a boxing ring with the audience on four sides. With nonchalant elegance, Patrick Moy saunters around the room from the telephone to the drinks trolley and pours a cocktail. As the story continues, his voice becomes more of a slow drawl and elongated vowels. With a chuckle of a laugh, his eyes light up when describing his love of hotels, the Pierre, Carlyle, Waldorf Astoria, the lobbies and luxury: 'I wanted my life to be a dream'. 
After sipping three or four Martinis –  ending up under the host, as Dorothy Parker quipped! - he's now in melancholic mood, bitterly sarcastic about brutal media reviews of his best-selling non fiction book of a Kansas murder In Cold Blood. While Capote may seem to be rather vain, he is self-deprecating in the fact that he has learnt more about writing from failure.  After gliding about, he now lounges like a lizard over the ottoman as the alcohol hits home. 
Andrew O'Hagan has written a poetic and passionate tribute to Capote, a light-hearted, lyrical ballad expressed through his words of literary wisdom and satirical wit.  Impeccably performed by Patrick Moy with graceful style, this 50 minute show cannot fully delve into the darker emotional despair of his complex personality.  
This is a cool, black and white glamour shot, but not quite the full technicolour portrait of a genius writer whose creative life revolved around invention and masquerade. 
Showtimes: 
4 – 26 August, 2023@ 18:05 
Ticket Prices: £ 14 (£12)
Age guidance : 12+ 
https://tickets.edfringe.com/whats-on/ballad-of-truman-capote