Image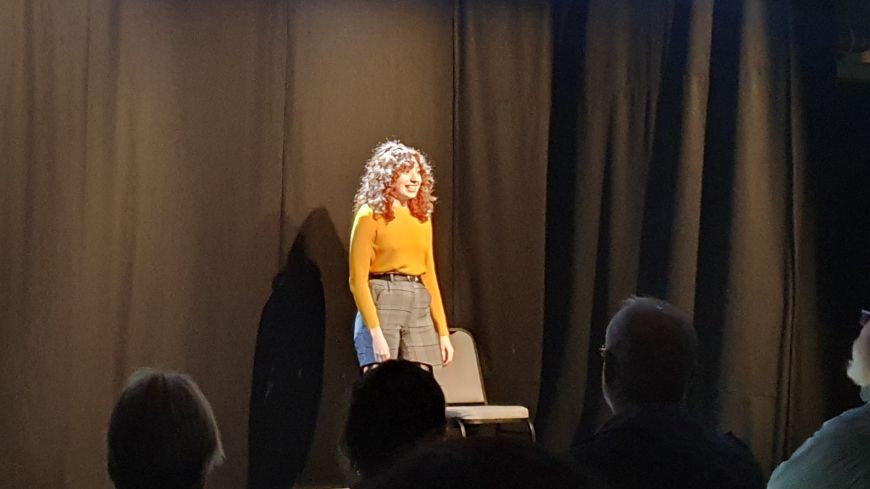 Company
Institute of Uterine Defense
Production
Sex Diaries of an Ex-Catholic
Performers
Abigail Jensen (Joan); Jamie Cowan & Niamh McGarvey (various roles)
Proceeding at a punchy pace, this was a production which beautifully blended sanctity and sincerity – and also hilarity.
Joan, the central character comes from a staunch Catholic background – the monastic music playing before the show suitably setting the scene. However, just as this is disrupted by Joan's entrance, so her life is overturned on discovering an exciting new world – of casual sex.
The plot develops quickly, as Joan throws off the shackles of her upbringing: moving from the awkwardness of Joan's first full sexual experience – losing her virginity to Daniel (played by Jamie Cowan) – to the dilemmas of contraception, and even on to the exploration of a fetish or two! Niamh McGarvey played both sexual partners and a sexual health nurse with equal and entertaining aplomb. 
The 'sex scenes' displayed clever choreography – the experiences and emotions of the characters were frequently conveyed by the actors facing forward (speaking into the distance), or standing back-to-back. The interspersion of the 'Celtic Alleluia' was an inspired recurring motif, it being used to accompany the climax of the 'sex' (it only lasting seven seconds!) The 'impromptu' dialogue between the actors and the technicians at the sound-desk was also an ingenious and engaging feature of the show.
This is more than just a production about a young woman's rebellion, touching too on the struggles arising when the perceived demands of religion clash with personal identity ("religion extinguishing the very fire of our bodies"). The differences between sex/love and guilt/shame were also sensitively surveyed. 50 minutes only allowed a limited exploration of these intertwined themes (and one of the final scenes about the insertion of the IUD seemed disproportionately long), but this was a great performance, with many memorable moments.
The performance finished at 1.05pm.
Sex Diaries of an Ex-Catholic, Tuesday 8th August, 12.15pm, theSpace @ Surgeons Hall – Haldane Theatre
8th – 12th August 2023: 12.15pm – £5