Image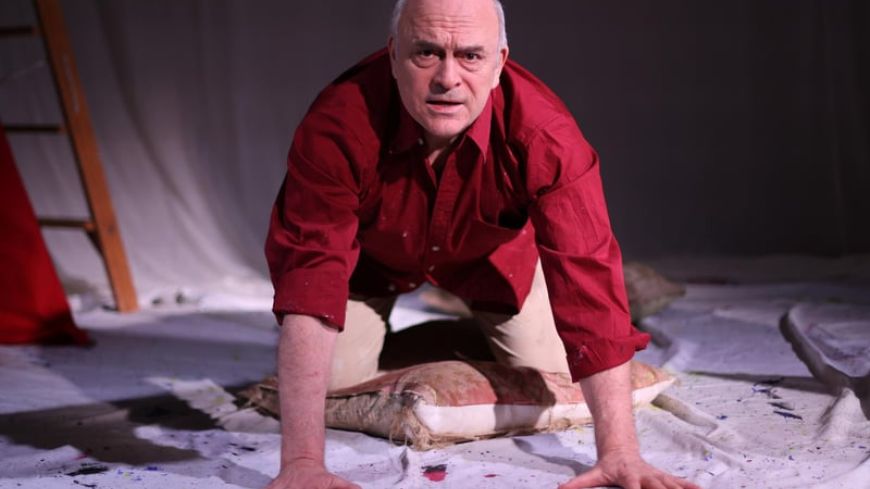 Company
The Playground Theatre
Production
Terry d'Afonso (original writer), Peter Tate & Guy Masterson (adaptation to solo show), Guy Masterson (director), Reuben Bojang (production, stage manager), Eirini Kariori (set and costume design).
Performers
Peter Tate (Picasso); On screen: Milena Vukotic (Olga), Margot Sikabonyi (Marie-Therese), Claudia Godi (Genevieve), Sandra Colladel (Dora Maar).
'It is said that I am a monster.  I seduce woman and then paint them. Art must not be explained.  – it's about emotion.' 
The setting is Picasso's studio with step ladder, paint splattered sheets across the floor and one of his symbolic bull paintings as a backdrop. The premise for this solo play is a question from Genevieve, an eager young journalist, 'What do women mean to you?'.  'Well, how long do you have,' is his response, before he relates the story of les liaisons dangereuses, the source of such enriching, artistic creativity throughout his long life. 
His first wife, Olga is quickly persuaded to leave Ballet Russes as he's jealous whenever she performs on stage with an attractive male dancer. He then becomes captivated by 17 year old Marie-Thérèse with whom he has a daughter, another work of art. 
Dora Maar, a photographer, painter and poet becomes his muse, soon believing 'only I know who he is,' while Picasso keeps his distance, 'If a woman gets too close to me, I'll destroy her.'  His obsessive womanising is extraordinary but coloured by light-hearted humour such as when he spies Jacqueline working in a pottery shop and easily entices her to visit his studio. 
With an uncanny resemblance to Picasso, Peter Tate portrays a brusque and, at times, brutal sense of macho dominance.  Rather shocking, simulated scenes of love making are an act of passion and power: his sexuality clearly fuelled the art, depicting his models and muses in dark, distorted portraiture and iconic allegory, especially Dora: 'For me she is the weeping woman.  For years I've painted her in tortured forms and it's important, because women are suffering machines'. 
In the manner in which he first bewitches and seduces his various lovers and then crushes them onto his canvas, a brief affair often ending in cruel betrayal, he's clearly seen as an egotistical misogynist, but equally they were all attracted by his charismatic masculinity.  Picasso views himself in mystical terms -  a magician, shaman and legendary minotaur as an embodiment of his personality, but was he really a monster? 
Spanish symbolism is dramatised through subtle imagery, his shirt echoing the waving red rag of a matador - for him the bull is about sacrifice, the blood of battle and death - and occasionally swaying his hips to the flamenco beat in dreamlike mood. 
 'Cubism and I are both about deception.' 
Portrayed by Peter Tate with such emotional intensity, he reveals what a vulnerable soul Picasso was behind his deceptive mask of privacy. Reflecting on all these broken relationships, we perhaps glimpse a glimmer of remorse through this intimate close up of a fractured, weeping man in his own Cubist mode.
With the use of imaginative, flash-back film sequences, poetry and music, Guy Masterson choreographs the rhythmic pace of the dramatic narrative like a lyrical dance.   To commemorate the 50th anniversary of Picasso's death, this visionary, intelligent portrait is an artistic and theatrical masterpiece.
Showtimes:
3 – 28 August @12.:45
Ticket prices: £16 (£15), £15 (£14)
Age guidance: 12+ 
https://tickets.edfringe.com/whats-on/picasso-le-monstre-sacre