Image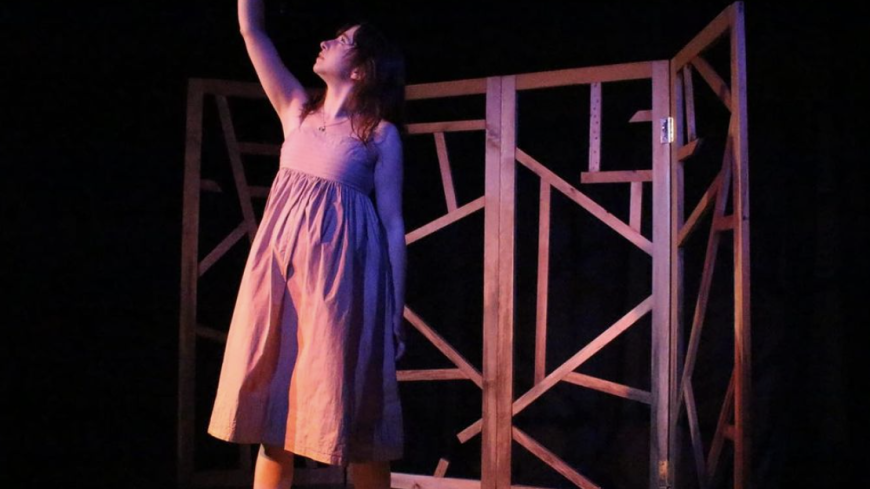 Production
Isabelle Woolley (creator, writer, performer), Lauren Tranter (director), Constance Comparot (designer), Ieva Ievina (lighting designer), Elliot Popeau-George (sound designer), Poppy Russo (producer), Adriano Russo (marketing designer), Venus Raven (tech operator), Olive Clark (costume assistant), Dumitru Chicu (set assistant),
Performers
Isabelle Woolley
'I thought this Earth was dead, no stirring life, a pile of tinkering bones. All it takes is a seed, a seed, one single seed.' 
In this world-premiere one-woman play of story and poetry, actor-creator Isabelle Woolley unveils the story of Persephone and the cycle of birth and death as an allegory for a girl's grief-filled transformation from maidenhood to self-actualised womanhood.
The tapestry of this piece is woven with strands of poetry evoking the Greek myth and strands of prose relaying the parallel tale of a girl transforming into her own furiously powerful womanhood through unplanned pregnancy to baby loss and subsequent rebirth. 
Woolley as this character sets the scene bearing handfuls of oranges. Once an innocent summer child, her surprise pregnancy starts to twist her from the inside out, bringing forth her truth and torment, mentally falling into her own Underworld. Though she bargains with god(s) to bleed once more, her own Fate will be her undoing but also her revival. As she eats rabidly of the oranges, the very picture of maiden Kore is no more; she is now ruler of her own grief, claiming the primal as Queen of departed souls. 
Citrus being a common craving in pregnancy, it's a fitting poetic replacement for pomegranates in this adjacent fable. And as was for Persephone, the eating of this fruit marks her destiny at this pivotal moment in the show. She can't change the grief of losing her child; she cannot stop her total transformation as the winter of her life looms. But, also, as was for Persephone, this woman reclaims her loss and from the darkness seizes her life once more, calm and potent in the knowing that despite the pain, life is a cycle of seasons, of journeys and returns. 
When Isabelle moves onto the floor, the rows further back may lose sight of her briefly, but as a piece with a stripped back set and highly reliant on tone and music, this shouldn't affect the enjoyment of the show. 
If you are not familiar with the details of the Hades and Persephone myth, you may struggle to grasp the depth and ingenuity of the symbolism, but it's worth reading at least the synopsis first to fully appreciate the beauty of this writing and performance. 
Persephone is a contemporary story made timeless by its revisioning of a classic myth, sparking a unique and complex view to love and loss.
9-12, 14-19 Aug 14:55
Suitability: 14+ (Guideline)
Warnings and additional info: Contains distressing or potentially triggering themes