Image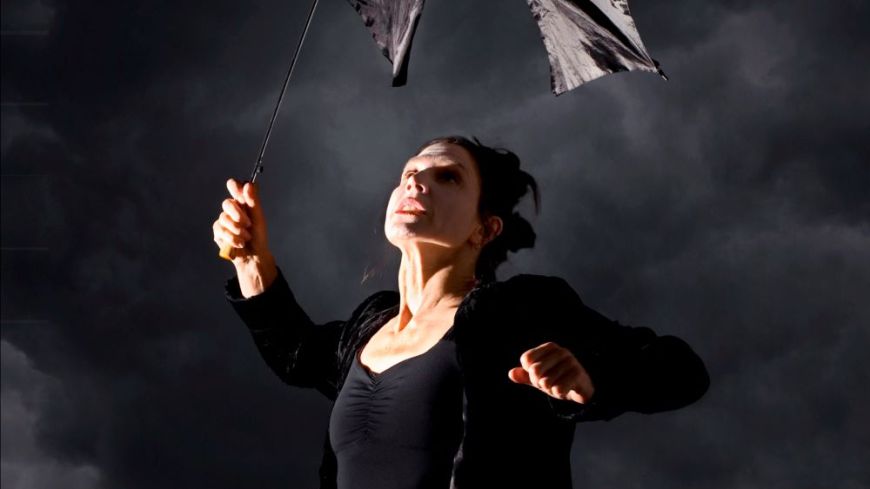 Production
Susanna Hamnett (writer), Edith Tankus (director), Steve MacGregor (additional direction, light and sound desk), Lindsay Anne Black (set design), David Parker (film)
Performers
Susanna Hamnett
"The Music hall was an unselfconscious world; here are the cross talk men, trick cyclists and comic singers,  men and women who had nothing but themselves, a song and a backcloth." 
The Times, 18 March, 1932
With a snatch of the 1930s jazz number, Stormy Weather and a sharp thunderclap, we are thrown into a wild, wet night, 'Blow winds and crack your cheeks.'
Bounding onto the stage in a black velvet coat, baggy trousers and battered boots, is our bright and bubbly, vaudevillian star, 'Hello, I'm Noris, well Noreen, but that's another story.' As she needs a job, her father suggests applying to be the King's Fool, and she gets the gig!  Shakespeare wrote his play first, but this is her version of events which is, she warns, 'So sad. There will be bodily fluids pouring out of your eyes and nose," throwing a shower of Kleenex around members of the audience. 
This is King Lear in a nutshell in which Noris the Fool takes on half a dozen other roles - Lear, his three daughters, Osmond, Gloucester et. al. relating the story in a crazy caper of short sketches.  Scene 1: the elderly Lear announces that he is dividing his kingdom between his children according to how much they love him. Regan cleverly bursts into song, 'My heart belongs to Daddy' in Marilyn Monroe mode while Cordelia just says she will obey, love and honour without emotion. So she will be banished but first requires a husband: the Duke of Burgundy slurs his words, perhaps sipping too much claret, and the King of France, (a perfect purr of an accent), mutters about fish & chips and chocolate croissants. (Like extracting Rosencrantz and Guildenstern from Hamlet, these two cool, charismatic Frenchmen are a comical double act themselves.) 
The slimmed-down plot flows along at fast speed, through the action of the posh aristocratic girls, Gonerill and Regan, aided by Osmond, Lear's seductive servant. But the Fool is all ears, watching and listening. She believes the King is mad to relinquish power and divide his kingdom.  'Fool:  .. to give away thy land. The sweet and bitter fool.  Lear: Dost thou call me a fool, boy?'  
Betrayed by family and foe, it is indeed only the Fool who is loyal to the King. Noris frequently refers to her father, dear Da, neatly linking their close relationship with that of Lear's affection for his favourite daughter, Cordelia.
Susanna Hamnett is an extraordinary, virtuoso character actor in the tradition of a music hall performer, a master of mime and mimicry, a clown, stand up comic and singer. With vivacious energy she races around the stage, switching roles in split second changes of voice, accent, facial expression, portraying horses and soldiers with childlike glee. 
As an engaging storyteller she chats to the audience between scenes: 'Be prepared for the worst storm in all of English literature," whipping out a spray bottle of floral-scented spring water. This has to be a shared experience of the wetness on the heath, amidst thunder and flash of lightening. This is immersive theatre at its best so as well as a splash of water, be prepared to join the chorus of 'I do like to be beside the seaside, tiddly om pom pom.'
While there is lighthearted, pantomimic hilarity along the way, the show is in no way a satirical send up of King Lear. This is an intelligent distillation to focus on the Fool, this wise and witty observer, voice of reason, Cordelia's ally and Lear's alter-ego, whose riddles and rhymes are a trickle of sanity running through Shakespeare's tragedy: a morality tale of cruel revenge, madness, despair and death, which ends with an optimistic ray of hope through the transcendental power of love. 
Written and performed with imaginative vision, this musical, tragicomedy gets to the emotional and moral heart of King Lear with literary insight, Shakespearian wit and quiet compassion. This magical, operatic, world-class, theatrical experience is worthy of being staged at the Edinburgh International Festival. 
Showtimes: 
10 – 19 August (not 13), @ 17:10 
Ticket prices: £12 (£10)
Age guideline: 12+ 
https://tickets.edfringe.com/whats-on/nearly-lear