Image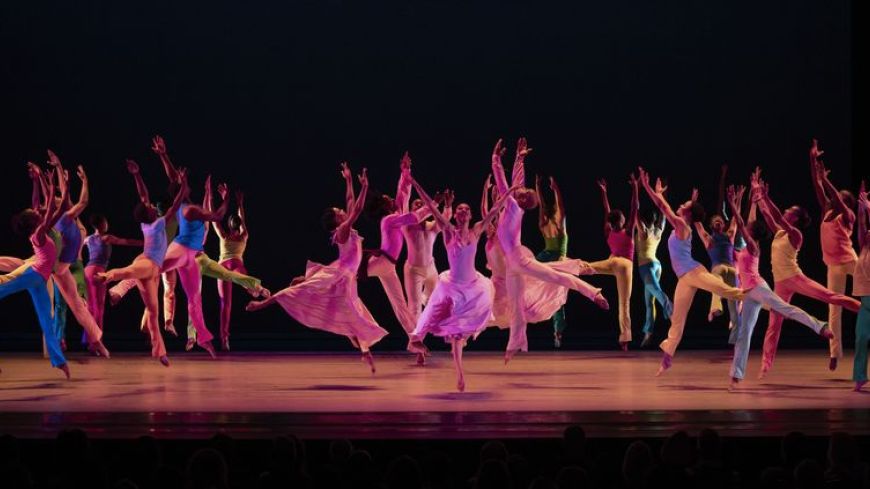 Company
Alvin Ailey American Dance Theater
Production
Alvin Ailey, (choroeographer), Memoria: Keith Jarrett (composer), A Christina Gianninni, (costumes), Chenault Spence (lighting); The River: Duke Ellington (composer), A Christina Gianninni, (costumes), Chenault Spence (lighting); Revelations: Traditional church music. Ves Harper (decor & costumes), Nicola Cernovitch (lighting)
Performers
The company members of the Alvin Ailey American Dance Theater
The second of two programmes by AAADT features a triple bill of vintage works choreographed by Alvin Ailey, as a tribute to the pioneering founder of the company who died in 1989.  
Memoria (1979) was created as a personal elegy to capture her creativity and wild spirit of his dear friend, the dancer Joyce Trisler. Through solos, duets and groups, the narrative follows a nostalgic journey through her life using 'photographic' snapshots to reflect on dreams and memories.  With a rousing jazz score by Keith Jarrett, the changing rhythm and pace of music and movement is like the ebb and flow of the tide, from tranquil mood to a whirl of energy.  Soft lighting creates floral patterns like Monet's waterlilies, the perfect backdrop for the dancers to form elegant arabesques in a circle with long outstretched arms; they glide like skaters on ice and then fly and flutter across the stage like a migration of doves.  The jazz beat intensifies as a huge ensemble in nude, skin-tight leotards race and run around in joyous mood.  As a euphoric finale, there's an explosion of rainbow colours as they whirl and wheel around one lady in a glamorous red dress, who is gently lifted up skywards towards her final resting place in heaven. 
The River (1970) was a collaboration with the legendary musician, Duke Ellington, who was inspired by natural world, ' birth, the wellspring of life and rebirth.'  The score is not solely jazz based but a lyrical symphony, to complement a seamless blend of classical ballet and modern dance.  Divided into chapters, we move through place and time, tracing the route of the river from a bubbling mountain spring to the serene beauty of a lake, rushing on to tumbling rapids and waterfalls.  Effective lighting creates blue ponds of glistening calm water,  and a red sunset sky backdrop for an acrobatic high leap in silhouette.  The music is glorious throughout from a romantic pas de deux to a bold, brash Bernstein-esque, 'West Side Story' beat with sultry, sassy style. 
 Revelations (1960) is regarded as the most widely viewed modern dance work. As an autobiographical memoir, this theatrical dance drama is based on his childhood attending Baptist church services in Texas, immersed in the cultural heritage of the Deep South. He used the idea of "blood memory," the fact that events are passed down the generations, 'sometimes sorrowful, sometimes jubilant, but always hopeful." With a soundtrack of Gospel music and choral anthems, various scenarios illustrate religious ritual and daily life, with the company dressed in Sunday best suits, white cotton dresses and parasols against a pale blue sky of the summer sun.  Evocatively staged with a flowing river of blue silk, the song, Wade in the Water was the advice to slaves so that dogs could not follow their scent.  To foot-tapping spiritual songs, jaunty dance steps are performed with such a sense of spontaneous, joyful emotion. 
The Alvin Ailey American Dance Theater is simply world class blending classic and modern dance in in a truly unique synchronicity of balletic grace, dynamic theatricality and rhythmic energy: eloquent, exuberant, enchanting.     
Showtimes: 
Programme 1: 23 & 25 August, 2023 @ 19:30
Programme 2: 24 August 2023 @ 19:30; 25 August, 14:30
Ticket prices: from £21
https://www.eif.co.uk/events/alvin-ailey-american-dance-theater-programme-1