Image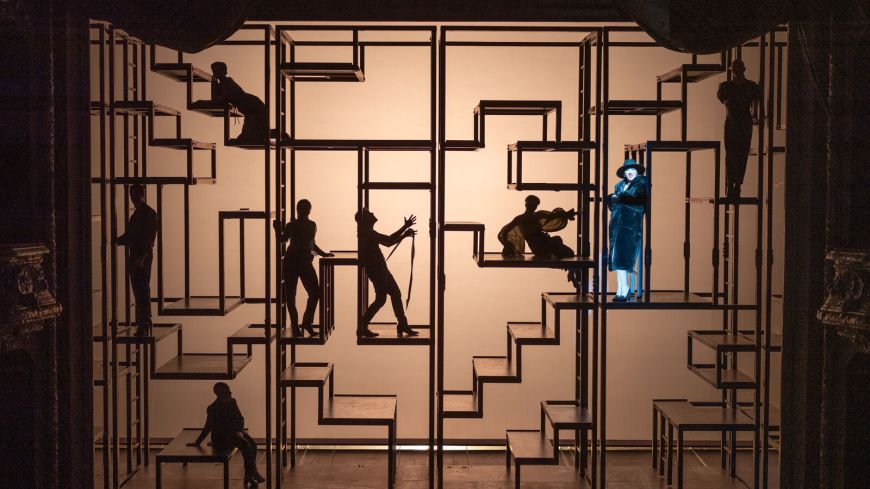 Company
Berliner Ensemble
Production
Bertolt Brecht (text) and Kurt Weill (music) in collaboration with Elisabeth Hauptmann
Barrie Kosky (Director), Adam Benzwi (Musical Director), Rebecca Ringst (Stage Designer),
Dinah Ehm (Costume Designer), Ulrich Eh ( Lighting Designer), Holger Schwark (Sound Designer)
Sibylle Baschung (Dramaturg)

Performers
Tilo Nest (Jonathan Jeremiah Peachum), Pauline Knof (Celia Peachum), Cynthia Micas (Polly Peachum), Gabriel Schneider (Macheath, aka Mack the Knife, and Filch, one of Peachum's Beggars),
Kathrin Wehlisch (Brown), Amelie Willberg ( Lucy), Bettina Hoppe ( Splenkun Jenny), Josefin Platt (The Moon Over Soho) , Nicky Wuchinger Smith, Julia Berger, Julie Wolff, Nicky Wuchinger, Dennis Jankowiak (Macheath's Gang, Robbers, Muggers and Whores).
The Orchestra: Adam Benzwi, James Scannell, Doris Decker, Lorenz Jansky, Otwin Zipp, Stephan Genze, Ralf Templin - conducted by Adam Benzwi .

At the EIF 2021, as the world slowly began to emerge from lockdown, there was a mesmerising performance of Lonely House with pianist Barrie Kosky and singer, Katharine Merhling: ' .. a slickly-crafted, charismatic homage to Kurt Weill and his innovative creation of American Opera'.  
Barrie Kosky now returns with this classic Kurt Weill/Bertolt Brecht collaboration which when premiered in 1928 was viewed as a ground-breaking shift for musical theatre to satirise traditional opera and operetta. Brecht wanted to write a play about sex, money, the corruption of human nature, inspired by John Gay's The Beggar's Opera set in Victorian London.  For the score, Weill explored the emerging new jazz in Berlin 'Kit Kat' Cabaret clubs to create strident rhythms with seductive beat.   
Through a shimmering silver tinsel curtain, the glowing pale face of The Moon over Soho is picked out in spotlight as she launches slowly into the brash, brittle ballad, 'Mack the Knife', 'Oh, the shark, babe, has such teeth, dear, And it shows them pearly white, Just a jackknife has old MacHeath, babe, And he keeps it, ah, out of sight'. 
A notorious criminal perhaps, but the Shark is a likeable rogue, handsome antihero, a sly and seductive womaniser.  Attracted by his wild, wily charisma, Polly Peacham in her white meringue of a wedding dress, elopes in the night much to her parents' despair, who endeavour to have him caught. But their plan is hindered by the fact that the corrupt Chief of Police, Tiger Brown is an old army mate of Macheath.   
The curtain rises to reveal a massive scaffolding grid of flights of steps, square platforms for apartments, brothel and prison. With acrobatic skill, the cast climb and clamber up and down, captured in softly lit snapshots and intimate vignettes to create monochromatic silhouetted figures.  Rather than depicting Dickensian times, we are perhaps transported to the Soho of Swinging London, 1960s,  where the colourful fashion sense is all lime green, lemon yellow, petrol blue and purple from Ra Ra frills to satin gowns.  
On the run from the law, Macheath is played by Gabriel Schneider like a raffish Artful Dodger revolving on a merry dance between the sweet and naïve Polly, to stay undercover at the Brothel with his prostitute lover Jenny, his dastardly behaviour dramatised with raunchy humour.  Meanwhile, rivals in love, Polly and Lucy create an unlikely but heartwarming bond. The vocals by the three women range from lyrically melodic to high, often shrillingly discordant, notes.  Mrs Celia Peacham glides about gracefully in a mink fur coat, her rich, resonating voice and sensuality evoking the vintage vibe of the legendary German singers, Marlene Dietrich and Lotte Lenya.  
After a well choreographed chase across skyhigh rooftops, the mad, bad and dangerous Macheath is arrested and sentenced to hang. With the rattle of a chain, he's like a vicious, trapped lion in a cage. Asked what he would like for his final meal, the jailor adopts a Charlie Chaplin prancing walk, as he silently pushes a very squeaky trolley to present a dish of asparagus. With a drizzle of sauce, he proceeds to feed the blindfolded Macheath, provacatively pushing the slightly bent green stalk into his mouth.  
Embracing true Brechtian theatricality, the actors often break down the fourth wall to talk directly to the audience as well as playful encounters with the conductor and musicians in the pit; the seven piece orchestra – featuring trombone, saxophone, piano, harmonium, drums - perform Weill's jaunty, jazzy score with vibrant vivacity. 
Just a couple of quibbles - the first act is a tad overlong, and surtitles were difficult to read from the Stalls. However, oozing with the classic authenticity of the Berliner Ensemble, this is a cool Cabaret of music and song, a brutal, bittersweet romance performed with sardonic humour, pace, passion and dramatic punch. 
 Showtimes: 
18 – 19 August, @ 7.30; 20 August @ 5pm. 
Tickets: from £21 
https://www.eif.co.uk/events/the-threepenny-opera