Image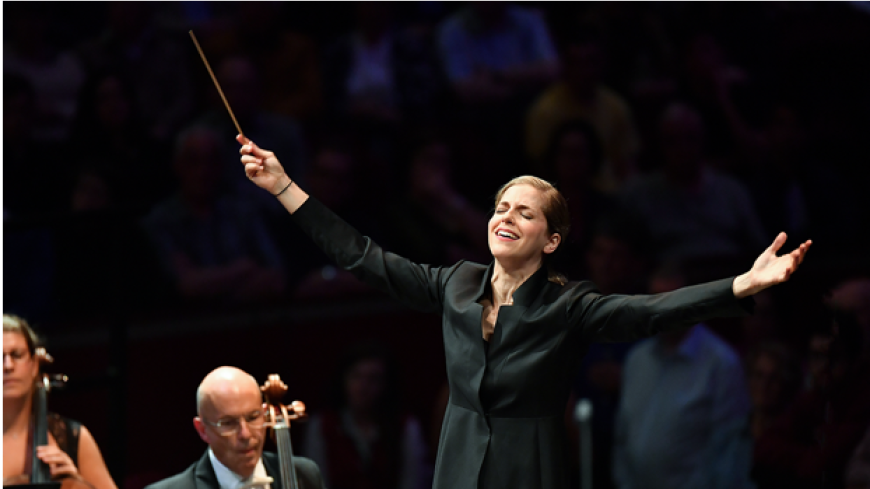 Company
BBC Scottish Symphony Orchestra and Edinburgh Festival Chorus
Production
Wagner, Prelude and Liebestod from Tristan and Isolde; Scriabin, Le Poéme de l'extase; Rachmaninoff, The Bells.

Performers
Karina Canellakis (conductor), Aidan Oliver (chorus director), Olga Kulchynska (soprano), David Butt Philip (tenor), Alexander Vinogradov (bass).

Nicola Benedetti briefly introduced the Closing Concert of her first year as the International Festival's Director, reminding us of this year's tag line 'Where do we go from here', adding her exhortation that all mobile phones be silenced. The general view is that she has done well. New York born Karina Canellakis took to the podium to conduct the BBC Scottish Symphony Orchestra in the moving Prelude and Liebestod from Wagner's Tristan and Isolde. Scriabin's Le Poéme de l'extase developed the theme with the sheer energy of a large orchestra eventually releasing a vast amount of ecstasy.
After the interval the 130 or so members of the Edinburgh Festival Chorus were in place for Rachmaninoff's The Bells, originating from Edgar Allan Poe's poem. We were listening to a very fine performance of a choral symphony in four parts: The Silver Sleigh Bells, The Mellow Wedding Bells, The Loud Alurum Bells and The Mournful Iron Bells. The three soloists, soprano, tenor and bass, each had one of these movements with the Chorus singing the third. It was a very impressive and suitably dramatic end to this year's International Festival.
Event: Sunday 27th August 2023 at 6pm