Image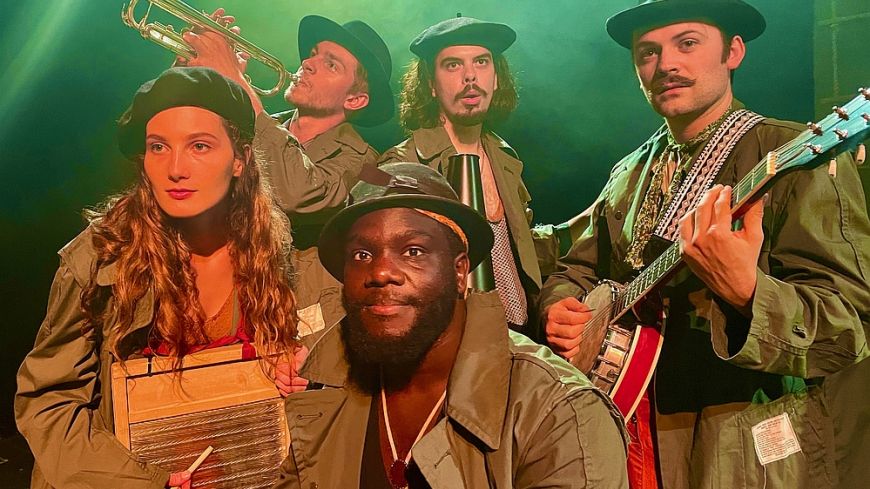 Company
Dead Rabbits Theatre Company
Production
Kasia Zaremba-Byrne, Alex Byrne and ensemble (writers), David Hockham (lighting designer and production manager), Tina Bicât (set and costume designer), Greg Hall (sound designer), Leah Butterworth (stage manager), Matt Keywood (technical support).
Performers
Natisha Williams-Samuels (Mabel Stark), Abayomi Oniyide (Art Rooney),
Antonio Victorio (Al G Barnes), James Parker (Louis Roth), Chloe Waddilove (Maggie Speaks), Eddie Breckenridge (Rajah the Tiger).

It is raining. It always rains on Wednesdays. It rained the first night she met her love.
In the summer of 1913, the circus comes to a small Kentucky town to the delight of 17-year-old Mabel, but her three strict Presbyterian aunts declare it "the Devil's work".  Well, adventurous Mabel is willing to sell her soul and runs off.
Day turn to night, turns to day as the circus train rocks through the rolling hills and fertile valleys under the Californian sun. When Mabel is discovered sleeping in the wagon with the big cats, panicked impresario Al G Barnes nearly sends her packing, but sees the attraction in her "circus legs" and adds her to the dancers.
The dancers nickel-and-dime some revenue, the third-rate acrobats The Gambini Brothers more, but the big cats are the big earners. Mabel is fascinated by the tigers with their smooth fur like oysters in butter and sees a vocation to be a female trainer. She must be crazy, or perhaps just the bravest woman? Nobody is going to pay to see a woman torn apart but if she could pull it off the audience would scream, cry and pee their pants. Gentle Art Rooney teaches her the game of wits that will have the cats jumping through hoops.
It rains the first time she is mauled; the cats hate the rain.  You earn your scars in the circus.  Her wounds are healed with her growing love for Art and Bengal tiger cub, Rajah. The famous female tiger trainer is adored and lives for adventure; nothing else matters, except for making love.
It rains the Wednesday in 1931 when an official government letter arrives. The winds of change are blowing, and a storm is brewing.
This is a production full of circus and theatre magic.  In a similar lively physical style to their previous My Love Lies Frozen in the Ice (review) it is playful and visually inventive while invoking a feeling of nostalgia with a hazily lit and travel worn set design.  Animals are conjured up with puppets, parachute silk and with the participation of the audience.  The ensemble plays an upbeat bluesy soundtrack to drive it along. There are excellent performances throughout with Natisha Williams-Samuels up front and centre telling her story with flashing eyes.
A delight and as Al G Barnes would have it - "A truly Big Show".
Show Times: 3 to 29 (not 17, 22) at 1.05pm.
Tickets: £6 to £14 (£13) (Family £42 to £50).
Suitability: 12+. Contains audience participation.