Image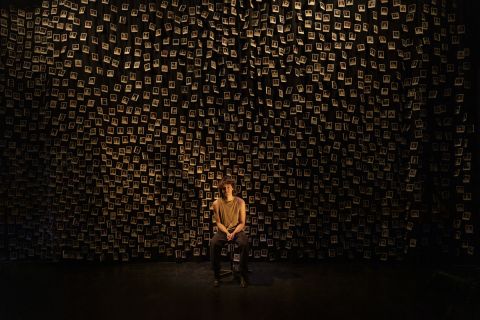 Company
Ontroerend Goed and KASK School of Arts (Belgium)
Production
Charlotte De Bruyne (coach), Aurélie Lannoy (coach), Sarah Feyen (set design and technician), photography (Ans Brys), Sophie De Somere (original director), Joeri Smet (original director)
Performers
with Abigail Gypens, Arend Peeters, Celestes Astrid de Vlam, Emiel Lenaert, Esra Verboven, Idania Spruyt, Lander Slootmaeckers, Luca Persan, Maria de Cort, Matilde Casier, Tibau Beirnaert 
"...have I just seen the most transformative show at the Fringe on day 1 of the festival?"
Ontroerend Goed along with 10 students of KASK School of the Arts bring a new version of this legendary show (which first debuted the company at the Fringe) to an unassuming C venue on York Place (which makes the magnitude of the adventure before you that much more shocking).
Bringing into stark focus our desperation for true human connection, this intoxicating emotional journey wheels you, blindfolded, through a sensorial and cathartic dark ride you could only imagine in your dreams. 
Ultimately, this experience is a deeply personal - and mutual - exploration of trust and vulnerability for both the performer and audience member. Those acquainted with the prominent Belgian theatre company may entrust them with inherent confidence, as prior Fringe triumphs Are we not drawn onward to new erA (2019) and £¥€$ (LIES) (2017) precede them; however, regardless of familiarity with this ever-surprising troupe, this 30-minute audience-of-one production will astonish and jostle even the most daring of Fringe-goers.
The depth of smells and sounds, touches, both arresting and pleasurable, and (yes) taste are completely enveloping, as the absence of sight amplifies the remaining senses. While your body is manipulated and whispered to, the disoriented mind ruminates on consent, fear, isolation, animalism, submission, accessibility, loneliness, belonging, loss, love…will the electricity of this savage and thrilling closeness burn as much as it excites? 
To spoil and speak in more specifics would be nigh unforgivable, but suffice it to say, The Smile Off Your Face is undeniably the most intimate performance you will ever experience. Come ready to be opened.
 
The Smile Off Your Face
Aug 5-7, 9-14, 16-21, 23-28
Times vary
Suitable for 14+ (guideline)