Image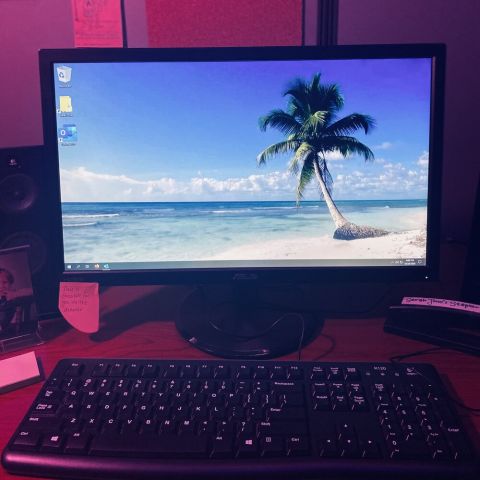 Company
Dutch Kills Theater, Wolf 359
Production
Written By Michael Yates Crowley, directed by Michael Rau, designed by Sara C. Walsh and Asa Wember
Sarah Jane Tully is an actuary, someone who uses "their mathematical skills to help measure the probability and risk of future events…to predict the financial impact of these events on a business and their clients."
It appears as if Sarah has finally taken that dream vacation to Hawaii (she's never gone farther away than Cleveland), as you are now the temp covering for her (or are you?). When Temping begins, you're greeted at the door and handed a welcome orientation pack and universal leave policy (spoiler: it's not great).  
This is theatre at its most immersive and interactive, as you sit, alone, in a cubicle, consuming the thousands of details around you that make up Sarah's life. Homemade language study flash index cards (she's learning Hawaiian?), a jar of only the worst flavours of candies on her desk (banana, mostly) and a Yankee Candle (called The Last Paradise) are just a few of the touches that actualise this workplace. And with the sound of a plane going overhead, you're cemented fully into this world of a windowless office in Waukegan, Illinois. Sarah has worked at Harold, Adams, McNutt & Joy, LLP for 17.5 years, and throughout that time she has collected photos and tchotchkes of Hawaii that make her Midwestern cubicle a sort of shrine to a moment outside of the mundane. 
Sarah leaves you voicemails with instructions, the recordings becoming increasingly unravelled as you uncover truths and secrets about the lives of Sarah and her coworkers, like James (who leaves voicemails in a condescending tone and sends emails with pithy inspirational quotes in his signature). 
You click around on the desktop, answer emails, and update spreadsheets, changing clients from 'Active' to 'Deceased'. You save the file, at which time the lights dim, solemn music swells and you receive a fax with a bit of information on whom those clients were as people instead of just as data in Excel. Tara was a bridesmaid once; Ted was a missionary; George was a father with a daughter just starting to drive; Flo was "kind of a badass", etc. etc. 
Predicting risk and death was an integral part of Sarah's work, a task you take up for her in her absence, but Temping calls upon its audience member or, really, its player, to assess their life instead. What if I took that holiday? What if I picked up the phone to HR and reported that workplace sexual harassment? What if I dreamed bigger than this?
A technical masterclass in live worldmaking, Temping is a thoroughly researched, vital, playful, cathartic experience for anyone who has had a soulless, thankless office job where they were made to feel that they amount to little more than a number.
Aug 18-28 
Suitability: 14+ (Guideline)