Image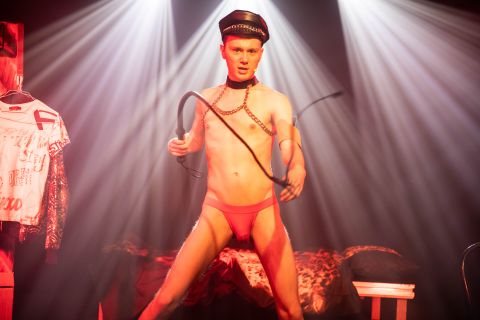 Company
LAMBCO Productions
Tracing the journey of Spencer, Soho Boy attempts to span many of the issues a young man experiences, emerging onto the disorientating world of the London gay scene. Lured by his potential partner Johnny, Spencer experiences all the highs and lows – in every sense.
Held together by a series of songs, the production is quite a sensitive blend of the humorous and serious – but sometimes attempts to straddle too much, given the space and time afforded. At times it is cabaret, at other points poignant drama – but the two struggle to gel, despite the strength of Spencer's character.
Played by the thoroughly engaging Owen Dennis, the storyline surely maintained momentum; we got a real sense of the vertigo, on this roller-coaster ride. That said, a downside to the pace was that important areas were covered, but with little meaningful depth – as in the case of Spencer being drawn into 'chemsex', and the later contraction of HIV. There was good scope here for exploring some of the more psychological issues and emotional consequences – but the drive of the narrative disallowed the chance. Nonetheless, the more melancholic of the musical items articulated an authentic sense of experienced angst, and we were given brief but touching windows into some of the feelings felt. These more reflective songs were the ones more accurately pitched.
For a one man show, the staging was cleverly done – the rotation of the symmetrical lighted-mirror/wardrobe props proved a nifty way of switching between club and bedroom scenes. The recurring motif of the passion for Edit Piaf seemed at times extraneous, but provided some lighter random moments. Similarly with the costume changes – sometimes smooth, but always inspired!
Often cliched, but tackling bigger themes – there was potential here for more, which an extended production might manage.
The performance finished at 6.05pm.
Soho Boy, Monday 23rd August, 5.05pm, theSpace @ Symposium Hall – Annexe
Every day until 27th August: 5.05pm –  £11 | £10 concessions
Photo credit: Nick Brittain Photography