Image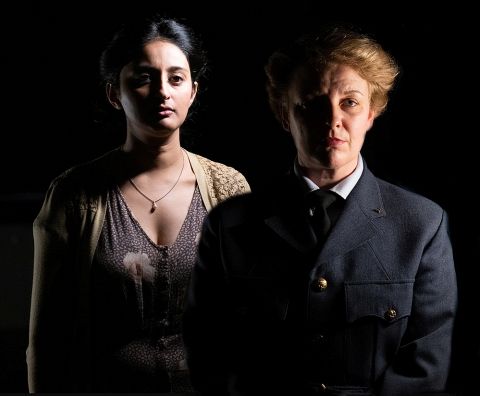 Production
Deborah Clair (writer / producer), Dominique Gerrard (director), Nicholas Collett (producer), Dee Harvey (designer), Cat Alchin (lighting designer).
Performers
Natasha Jayahendry (Noor Inayat Khan), Deborah Clair (Vera Atkins).
In clipped, efficient tones Special Operations Executive intelligence officer Vera Atkins is discussing the recruitment and deployment of her women agents behind enemy lines.
She assesses the chances of coming through at 50% and the burden of stress and responsibility clearly weighs heavily upon her.
Now the war is over, and she is going over her files in preparation for interviewing the main culprits in the disappearance of some of her "girls", including the former head of the secret police.
Her records take us back to 1943 as she prepares one of her charges, Noor Inayat Khan, an Indian princess going under the name Nora Baker.  S.O.E need a radio operator in Paris, and as a former resident in a now locked away life she is being prepared for the perilous task. Noor is concerned that she is too emotional, but doubt cast on her character only strengthens her resolve.  She can make no errors, being cautious if she is not 100% sure, she needs to outwit, outclass, and outrun.
Noor will become "Madeleine" and serve the Prosper resistance network, but after an auspicious start things look to unravel.  Soon the German forces are listening for her, and she is alone, five minutes from the Gestapo HG on Avenue Foch. How can she leave, but how can she stay?  As Vera pieces the story together and stares into the nacht und nebel (night and fog) the truth might be too unpalatable, a harrowing admission of failure.
The production has clearly gone to great lengths to do the story justice.  The meticulous detail displaying Vera's organisational skills initially appears somewhat forensic but as the momentum builds the piece becomes fluid. This is aided by the flexible set and enhanced by the sound design.
Ably performed, Natasha Jayahendry offers youthful energy and steely determination and Deborah Clair a stiff, if slightly trembling, upper lip as resourceful officer and brooding mother hen.
A cleverly constructed tribute.
Show Times: 19 to 27 August 2022 at 11.30am.
Tickets: £11 (£10) to £13 (£12).
Suitability: 12+. Contains distressing themes.