Image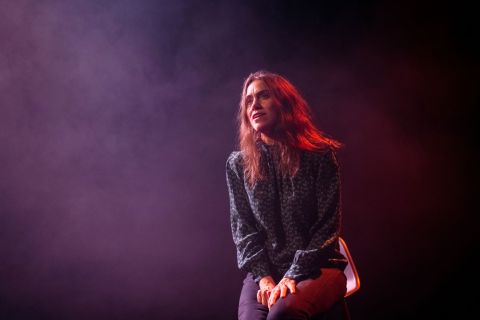 Company
Psycho Productions and Cusack Projects Ltd
Production
Matt Wilkinson (writer, director), Padraig Cusack (producer), James Turner (set design), Elliot Griggs (lighting), Gareth Fry (sound design).
Performers
Emily Bruni (actress)
June 16, 1960, The premiere of the movie Psycho in New York: 'The great filmic talents of Alfred Hitchcock, his superb artistry and technical mastery in this first-rate mystery thriller, full of visual shocks and surprises. Bernard Herrmann's strident, discordant music most notably during the shower scene, the full horror of the murder is only hinted at on-screen. It takes the power of the viewer's imagination to fill in the blanks.'
A chilling music score creates a mood of fear and suspense as a 40 something actress, perched on a stool begins to relate her own personal dramatic story which begins abruptly, almost mid sentence, during an interview with two policewomen: 
 …'They said, 'As you're obviously aware, you were among the last people to have seen him alive'. And I said, 'I met Peter Coevorden for a job. A theatre job.... he was the finest director of his generation. .. This was a crime against theatre.'
This interrogation came later. After Peter's brutal murder in his hotel room. 
Now in flash back, she gives a brief overview of her career from TV success during her skinny, eating disorder 20s to her current desperate pursuit of the starring role of Marion in a stage version of Psycho. She is both intimidated by the creative intelligence and obsessed by the attractive persona of Coevorden, a famous Dutch auteur director. 
The experience of the audition is evocatively described, observing the stiff competition from a line up of slimmer, prettier, more fashionable women wearing Isabel Marant boots and Ganni dresses.  But she's confident about her research of the movie having studied every frame of the iconic shower scene which took a week to film. 
The strident violin strings of the original Herrmann score echoes around the theatre as she re-enacts the scene of Marion driving the car with a bag of stolen cash, terrified of being caught.  A realistic, chilling, spine-tingling scene.  
The monologue is a most original concept akin to listening to an audio book of a novel, with Emily Bruni adopting various voices and accents to play the various characters, featuring all the nuances of conversation as well as her own shifting emotional feelings from pleasure to panic. (Interestingly Psycho was dramatised from a pulp crime novel by Robert Bloch)
This is a quiet, cool, calm and composed performance for the first 45 minutes, before it suddenly revs up to supersonic speed. The frenetic lighting and intense shrieking does not in fact add to the atmospheric tension of the drama and merely adds confusion to the twists and turns of the plot. Less is more.
The actress is ready for her audition: " the shower scene. Marion's murder, and just the thought of it on stage in front of people is just incredible, I'm totally prepped. I've watched the film six times."
But what an ingenious idea. A stage version of Psycho would be electrifying. Think "Dial M for Murder."
Show times:
4 – 28 August, (not 8, 15, 22). Variable times. See Fringe programme
Ticket prices: £22 (£17, £15, £5).
Suitability: 14+