Image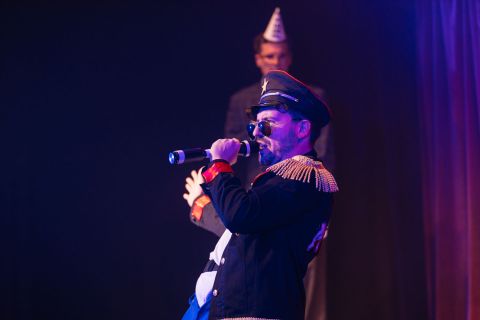 Production
Julian Spooner, Matt Wells, Hamish Macdougall (co-directors), Khaled Kurbeh (composer), Mine Cerci (associate director), Sam Critchlow (assistant director), Blythe Brett (set & costume designer), Simeon Miller (lighting Designer), Adam Jefferys (Production Manager & Technical Stage Manager), Ben Grant (sound engineer), Grace Dickson (producer).
Performers
Julian Spooner, Matt Wells, Khaled Kurbeh (musician)
Beneath a scrolling LED sign reading - Project Dictator (or 'Why Democracy is Overrated and I Don't Miss It At All') - Martin Wallace, polymath theatre maker, makes his welcome to what he hopes will be an extraordinary evening of theatre. This is his big State of the Nation play; "incredibly complex, dense, and hard to follow". "Theatre is not always meant to be enjoyable".
His hero is Tobias (Wells), born to do something special, he just didn't know what. He pictures solutions to the divided country, a better future freeing the common man from drudgery. All this achieved by him becoming a politician, and he grabs photo opportunities in a whirlwind campaign of buffoonery leading to leadership. Assisting is harassed everyman Jeremy (Spooner) who does everything while complaining that Tobias talks but gets nothing done.
Jeremy wants to add more fun and rips up the script. When he discovers there is a fourth wall to be broken, he takes the power struggle to the audience encouraging them to chant "No more play!". This is the future, but not one that turns out as expected as his populist control sees the press ridiculed and the complicit audience informing on any neighbours not participating wholeheartedly. Image is key as he mounts "horse" Tobias and poses bare-chested.
A false curtain heralds a change. The double act is now stripped to underwear and black hoods. If they are going to fool, they can be actual white faced sad-clown, everyman, Pierrot. Now they cannot deviate from the script. Both fool and embodiment of the disenfranchised, silenced to mime classic seeming vignettes. They wear fixed grins and feature-masking face paint yet the vulnerability, pain, and fear shines through as they are forced to restart scenes. With things becoming increasingly physical and the red sign flashing "Applause", how can they stop?
This "clown show about totalitarianism" is brave and clever in its stupidity, reminding us to wake up to the perils of playing with politics. Given the company's undoubted mastery, however, it doesn't entirely feel like the work they intended.
Show Times: 3 to 27 (not 15, 22) August 2022 at 6.10pm.
Tickets £8 to £15 (£13.50).
Suitability: 12+.