Image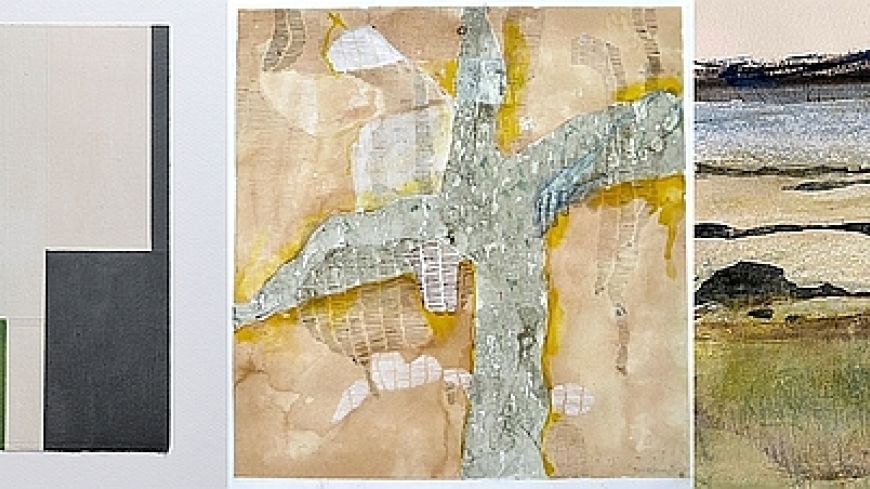 Company
Marion Barron, Trevor Davies, Ruth Thomas
Over several years at the Festival Fringe, Marion Barron, Trevor Davies and Ruth Thomas have collaborated on joint exhibitions focussing on the fine art of acrylic, watercolour, ink, graphite and collage on crisp white paper.
Marion Barron has long been fascinated by the form, line and colour of architecture, especially the simplicity and symmetry of Brutalist design, (French, Béton brut - "raw concrete.").  A series of paintings is based on Park Hill, a refurbished high rise building in Sheffield. The precisely measured rectangles and columns in Park Hill 2 (illustrated above), defines the pure abstraction of line and shape; the palette of soft yellow and green within a frame of grey and black, draws the eye into the quiet blankness of space in the centre.  Likewise, Park Hill 3 is a complex composition of shimmering copper, gold, bronze, slate to depict concrete and steel. 
"Every true artist has been inspired more by the beauty of lines and colour than by the concrete subject of the picture".  Piet Mondrian
With a similar approach to deconstructing realism of the urban landscape, Terracotta and Grey, sliced through with diagonal lines symbolises the geometric balance and bold structure of Brutalist design.
For Trevor Davies the starting point of many artistic ideas comes from a range of found objects, driftwood, newspaper cuttings, scraps of text.  - 'something old, worn, used, discarded, a sense of mystery'.  Purple Cloud is a finely crafted collage in which you can just see a few newsprint letters of a headline hidden beneath the gloss of oil paint, with a swirling, luminous pattern, perhaps the golden glow of sunset.   
His studies of the human figure are often depicted in an impressionistic style; here is the lively sense of movement and music of a Dancer (see image), with a slender hand and a hint of a face in profile. This has a similar flowing rhythm of abstraction created by Matisse in his Jazz series of circus clowns and acrobats.  (This iconic collection, Jazz, is currently on show as part of 'A Taste of Impressionism', National Gallery of Scotland @ RSA). 
In Paperwork 2021, Davis exhibited a minimalist 3D block, Sixteen, moulded in plaster of paris with 16 tiny circles pressed with a beer bottle top. This masterly technique is applied again with such decorative, textured craftsmanship in Division and Isosceles, two aesthetically-pleasing, pure abstract compositions.
'It is often said that Nature is the earth's greatest living artist'.  Australian artist, Ruth Thomas is constantly inspired by the geography and geology along the beach, both in Scotland and her homeland, 'Nature's calligraphy: the myriad of lines on windswept beaches, the delicate structures of rocks and shells.'
Her equally delicate drawings are akin to microscopic images of pebbles, shells and translucent seawater lapping on the sand.  Along the undulating coastline of East Lothian, Longniddry Bents (see image) is a narrow stretch of grassland, sand dunes and rocky shore depicted in a striated pattern of horizontal lines - sand, grass, rock, sea, hills, sky.
The impressionistic vision of Rocks and Reeds immerses the viewer on to the beach beside a wide, deep curving bay – you can almost smell the salty air.  Thick brush strokes sweeping across the canvas seem to depict a hazy cloudy day or even snow on the peaks of the distant rolling hills.
With a more sketchy freeflowing style, a tangled, criss-crossing web of Fishing Nets is laid out along the beach. A delightful blend of pale shades - sage green, lime, aqua, ochre -  while the translucent light glistens on the rippling waves to create a calm mood of peaceful tranquillity. 
Through their individual painterly precision, the trio of artists complement each other so well, sharing a mutual, cool colour palette and theme of nature, environment and heritage.   Having seen Paperwork shows at the Festival Fringe over the past five years, this is another richly imaginative collection of thirty-six (most affordable) paintings and prints which once again exceeds expectation.  Do take time out of your Festival diary to slalom your way down the hill to the Ski Club gallery, Howe Street, New Town (just a short stroll down from George Street or up from Stockbridge).  
Showtimes:
Paperwork, Art works on paper
5 – 15 August, 11am – 6pm (Free entry)