Image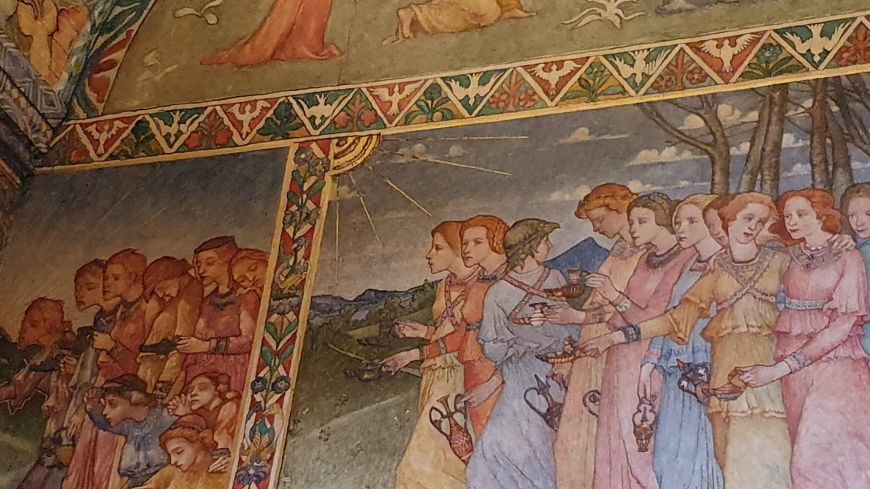 Company
Sacred Arts Festival
Performers
The Reverend Professor Gordon Graham (speaker)
An eye-opening talk and tour on the rightly acclaimed Phoebe Traquair murals.
Professor Gordon Graham gave a fascinating overview and background, both to the paintings and the building which holds them. The origins of the church, we learnt, lay in the nineteenth century, with the emergence of the Catholic Apostolic movement within Christianity at that time. Its emphasis on impressive architecture, colourful and distinctive liturgy, and sonorous music clearly informed the building's design. Phoebe Anna Traquair's murals came slightly later, with the beautiful paintings being completed between 1893 and 1901. She was very much driven by her own impulse – the project very much coming from her own heart and soul. Nonetheless, much in her work shows clear influences of the Arts & Crafts, and therefore subsequently, the pre-Raphaelite movement.
The challenge of 'painting heaven on earth' was inextricably linked to the reciprocal challenge of raising 'earth to heaven' – and this tension is beautifully portrayed in Traquair's delicate balance between the worldly and other-worldly aspects incorporated in her work. It is a conundrum she tackles over and again – and in the subsequent tour we saw some lovely examples: one of the redeemed appears to have fallen asleep, the angelic trumpeters have strikingly puffed-out cheeks, while in many other paintings local landmarks can be seen – including the Leaderfoot railway viaduct, in the Morris inspired depiction of the Annunciation. In other scenes, the juxtaposition of the earthly and heavenly hit even closer to home – with Phoebe's own three red-haired children included within the south chapel, and Traquair herself among the impressive west wall array.
A further common theme was the reflection of this particular church's stress on wakefulness and alertness in advance of the Second Coming – a great deal of space is given over to the Parable of the Wise and Foolish Bridesmaids in this way. The emphasis on life after death – and not death itself – is apparent in only a couple of subtle references to the Crucifixion in the entire building.
The corresponding commentary during the tour was informative and helpful, though at times somewhat slanted, perhaps influenced by a more modern and reformed perspective. It was nonetheless very clear that not only had the painting of the murals been in itself such a labour of love, but so also was the lengthy litany of conservation ever since. The task of restoration may be ever ongoing; but Traquair's work is a treasure of theology – and captured for us all in the most sacred of art.
The event finished at 2.25pm.
Painting Heaven on Earth, Mansfield Traquair, Thursday 18th August, 1.00pm, Mansfield Traquair