Image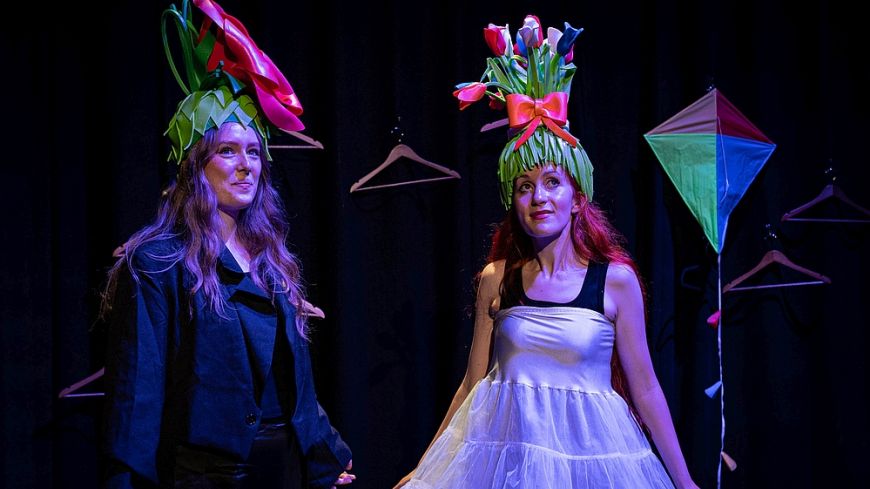 Production
Tzarini Meyler (writer), Graham Butler Breen (director), Ana Canals (producer), Colin Doran (lighting designer), Connor Dee (sound designer), Ruairi Macmaoilir (costume and set designer).
Performers
Tzarini Meyler (Kitty), Ana Canals (Angel), Kate Firth (narrator).
In post Second World War Ireland two bright young things seem to gravitate towards each other and their stars collide.
Kitty has grown up in Cork, while Angel is what the locals would call "a blow-in", a refugee of sorts as her family has fled the war in Spain.
To Angel this faraway place with its odd cast of provincial locals is like a neverland but when she is given a copy of Peter Pan, she sees the chance for fantasy to take flight.  With a friend of her very own she can escape to another realm, like two kites quivering on the same string.
The two girls meet in a favourite hiding place and indulge in secret dressing up and daydreaming games. They soar into the 1950's and planet teenager, exploring drinking and dancing and laughing about boy's "cucumbers" and French kissing – "oh La-di-da". 
Kitty is saving herself for the American Dream (perhaps Paul Newman) but they feel no contract between them an a state, quoting Virginia Woolf, "As a woman I have no country. As a woman I want no country. As a woman my country is the whole world."
They want to visit the world and then go further and get a planet of their own. They are stars in the making. If they could hide, armed with their make-believe, nothing could touch them, but with passing years they need to cast off childish ways. Angel longs for the secure home that was ripped from her while Kitty feels unprepared for womanhood.
They might have hitched their dreams to the stars, but they have been taken down separate routes and when their orbits eventually coincide, they will have to find if they can still be entangled like the lines of their childhood kites.
This coming-of-age play captures the playful fantasies of growing up and touches on gender roles, patriotism, sexuality, and love during a momentous period.
It comes into its own somewhat in the latter stages, but it doesn't clearly address the themes and is uneven. The long passages of narration are oddly toned and some of the movement is awkward or just unclear as to what it represents.
There is some unravelling to do to allow it to fully take flight.
Show Times: 5 to 28 (not 16) August 2022 at 2.20pm.
Tickets: £8 to £12 (£11).
Suitability: 14+. Contains partial nudity, strobe lighting, strong language/swearing.