Image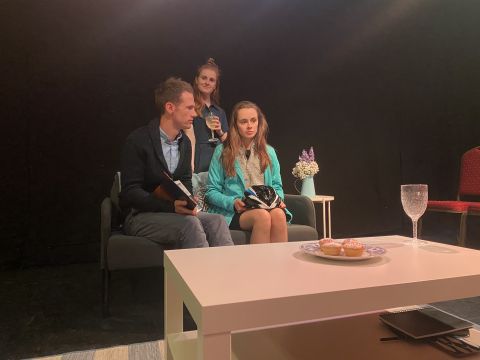 Company
Tiger's Eye Theatre with Tuath Theatre (Ireland)
Production
Niall Carmody (writer), Shane Hickey-O'Mara (director), Vicky Moonan (producer).
Performers
Johanna O'Brien (Dan), James Whelan (Bernie), Eleanor O'Brien (Erica).
"Do I look alright? What if she doesn't like us?"
Dan and Bernie are in a panic waiting for Erica, who might be a donor, their saviour, or a cycling Nazi. They have escaped the city, leaving parts of their past behind and are on a career break, nestled in a clifftop cottage in a picturesque part of the world.
When Erica wheels herself to their door there is an oversolicitous welcome with flowers, wine, and homemade buns. This meeting has been a long time coming and their nerves make them trip as they attempt not to tread on toes.
Erica is a little distracted but declares she has no secrets, although she would rather not say where she is from. Dan and Bernie wonder if she is a bit young before positing that maybe she moisturises.
They have eschewed the use of an agency in favour of having the opportunity to meet each other, but Bernie has not been able to cast off the paperwork and questions. He appears to need convincing that this is the right course, and that Erica is not vulnerable. His inquiries are clearly too invasive for Dan's liking, and she appears irked that she is not being put first and fears losing out.
This is not entirely a game of happy families.  Dan lives life in the moment while Bernie dwells in their past, relishing memories of shared experiences.
The conversations twist and turn from comic to disquieting, from jokes to judgements. At the end of the dark evening what measures will Dan take to have the life she loves and how far will Bernie go to stay with the woman he adores?
It's an unusual concept and, while a little slim even for its modest 45 mins, it's entertaining and neatly performed. Merely lowering the house lights would benefit the hemmed in feeling of intimacy.
Show Times: 3 to 21 August 2022 at 12 noon.
Tickets £9 (£7) (£5) to £11 (£9) (£7).
Suitability: 14+.