Image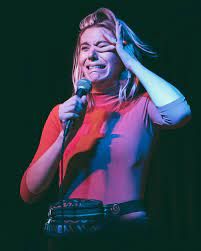 Company
AEG Live Presents
Wacky Hannah Pilkes is on the verge and she's taking us all with her.
This character-driven comedy is "an exploration of that space where you're hanging by a thread", bringing the audience along for sketches set within gut-busting shticks that include intermediate hip hop classes, first dates, wedding planning, a clairvoyant that cannot lip sync (hilarious), horror movies and more, all woven cleverly into the narrative that Pilkes has forgotten the time of the show, shown up late in a frenzy and now asks you to forgive her while she pops out to finish all the things she'd scheduled to do between now and when she thought her show started. It works!
When you enter, a board prompts you to write down what has you on the verge. Later she reads them out, fitting for her audience participation-packed show. Hearing a crowd "Ooohh… :/" to your secret read aloud on stage feels like that scene in Harriet the Spy when Marion Hawthorne reads out Harriet's journal - but this is very funny, probably because of the anonymity here. 
The crowd constantly howls at Hannah; this is like being on a night out with your funniest friend (perhaps you shared a night out with her before in 2019's Princess Party).
Ending with endearing poignancy, smashing solo debut On The Verge is laugh-out-loud, relatable and unafraid (and you had better be, too - it's INTERACTIVE!)
Hannah Pilkes: On The Verge tickets: here
9-14, 16-29 | 19:15
Suitability 14+ (Guideline)