Image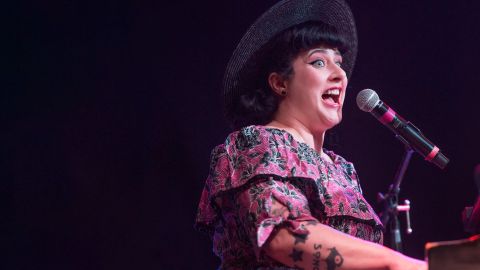 Company
Davina and the Vagabonds at Edinburgh Jazz and Blues Festival
Performers
Davina Sowers (vocals, piano), Zack Lozier (trumpet), Steve Rogness (trombone), Connor McRae Hammergren (drums), Andrew Foreman (upright bass)
Minnesota-based Davina and the Vagabonds are no strangers to the Edinburgh Jazz and Blues Festival and have built up an enthusiastic following here over the years with their brand of energetic, New Orleans style jazz and blues.
Mixing classics (think Ella, Aretha, Fats Domino and the like) with their own old-timey tracks, they evoke the era of smoke-filled jazz bars with a contemporary twist.
Davina, dressed in a 1940s style nautical dress, with roses festooning the front rim of her hat, proves to be a powerhouse of a performer over the hour-long set, especially when taking into account the muted response of the 5pm audience on Saturday.
Her piano playing alone is impressive enough, the way she ripples along the length of the baby grand, moving easily from deft chords to pounding out the notes when the mood demands it.
Singing for her appears to be a full body effort, with the piano a seamless extension of that. Whether she's interspersing her sassy, slightly husky vocals with rhythmic yelps and playful outbursts, or, in the soulful numbers, her voice building to a wild-eyed roar.
"Her boys", all dressed in suits (or at least waistcoats) and ties, are perfectly in synch with Davina's full-on performance style and it's striking from the start just how big a sound the band produce for a five-piece. The brass duo of trombone and trumpet rarely lets up, while the drums and double-bass ensure that feet are tapping throughout. The band is tight. You can tell they've been playing together for a long time. (So tight that Davina and trumpet-player Zack Lozier recently got married).
The band romps through numbers like the swinging Bourbon Street Parade (where Hozier briefly leads the vocals) and the bouncy blues number How'd the Devil Get His Horns (which Davina tells us was the only track they've ever  made into a music video, with Scottish animator and fan of the band Gordon Howie).
That unity of purpose between the band members really comes to the fore in mixed tempo numbers like a memorable cover of Aretha Franklin classic Mr Feelgood where Davina really let rip.
The audience in the almost full Spiegeltent seemed slow to warm up - you could almost hear a pin drop between songs at first. Davina, who maintains an easy-going and light-hearted patter between songs seemed slightly taken aback: "You're so quiet," she said. Gradually, the audience warmed up and were beginning to make more noise in the latter part of the show.
For the final number, a cover of Etta James I'd Rather Go Blind Davina throws everything she has into it. A brilliant cover, which had us leaving the tent thinking that the concert was too short.