Image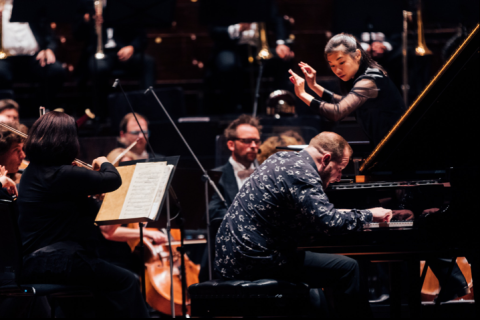 Company
Royal Scottish National Orchestra
Production
Dukas, The Sorcerer's Apprentice; Liszt, Piano Concerto No 1 in E Flat; Bartók, Concerto for Orchestra.
Performers
Elim Chan (conductor), Lukáš Vondráček (piano)
We had expected to hear Tan Dun's Percussion Concerto: The Tears of Nature but Austrian-born percussionist Martin Grubinger was struck down with Covid. But all was not lost; the Orchestra's Principal Guest Conductor Elim Chan was quickly into The Sorcerer's Apprentice - so familiar from Walt Disney's Fantasia in which Mickey Mouse had made his first appearance. It took the sorcerer to unlock the spell his apprentice had cast but couldn't undo. At its very end we imagined the clip on the apprentice's ear from an angry sorcerer.
It was a delight to watch Czech Republic-born Lukáš Vondráček play the piano concerto which had taken Liszt twenty six years to complete. Whilst Elim Chan was hidden from the audience's view behind the raised piano lid Lukáš Vondráček proved to a spell-bound audience that he was a competent and comfortable master of his keyboard. It was fun listening out for the oft repeated triangle as the concerto became louder and more aggressive. The soloist's much deserved short encore calmed the nerves.
Bartók had fled Hungary for the United States in 1940 but life was tough; before long he was in hospital with leukaemia. Friends found the money to commission him to write a large-scale orchestral work. It was first performed in December 1944; he died the following September. It was a concerto in Bartók's mind because he wanted to give every part of the orchestra a turn to shine. Elim Chan is very good at making sure key players get their applause - and there wasn't a corner of the Orchestra she did not have on their feet this time. Her very energy with the Orchestra is a pleasure to watch. This was entirely enjoyable concert with its fun start, enlightened piano soloist and serious main work.
Event reviewed: Tuesday 9th August 2022 at 8pm