Image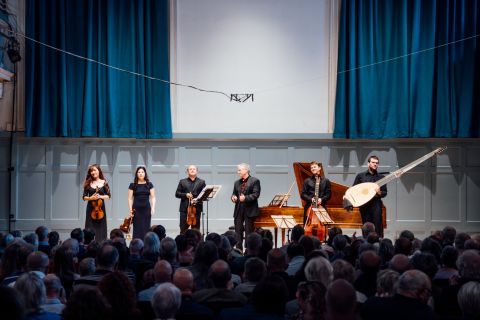 Production
Sonata XXI con tre violini (Gabrieli); Sonata 16 for 3 violins (Fontana); Toccata Settima (Rossi); Sonata in ecco (Marini); Fantasia: Three Parts upon a Ground (Purcell); Salve Regina (Lully); Lamentation faite sur la mort très doloureuse de Sa Majesté Imperiale, Ferdinand le troisième (Froberger); Sonata for 3 violins (Schmelzer); Sonata secondo for 3 violins (Buonamente); Canon and Gigue (Pachelbel)
Performers
Richard Egarr (Harpsichord); Bojan Čičić (Violin); Rachell EllenWong (Violin); Ruiqi Ren (Violin); Alex McCartney (Theorbo); Jonathan Rees (Viola da Gamba)
If there could be one word to summarise this performance, it would be 'joy'. The morning's experience of seventeenth century chamber music was not what I was expecting; Richard Egarr – and friends – made it not only fascinating, but utterly uplifting.
Throughout the performance, they key thing that stuck out was the positive communication – both amongst the players, and also with the audience. Richard Egarr had such an engaging way with those of us there assembled – his introductory pieces to each item were full of fun, but with technical and historical nuggets, conveyed in a thoroughly accessible way. But what also made an impact was the constant contact between the 6 musicians themselves – their enjoyment, sense of fun, and clear commitment: both to the music, and to each other. Rarely do we see this – to such an authentic, pervasive and consistent level.
A number of the items featured the violins – the three soprano voices – moving and winding around each other. The synergy between them, while being magnetically centred on Egarr (drawn rather like iron filings to a magnet) was enthralling to witness. Egarr had his own moments on the harpsichord – and there was a most humorous introduction to Rossi's 'Toccata', with its chromatic colouring being described as 'not a piece for the headache sufferers'! In the next work, Marini had asked in his 'Sonata, that the two violinists who form the 'Ecco' not be seen – and these were tantalisingly concealed off-stage.
After the Interval, Lully's 'Salve Regina' gave us an example of something with a very different colour to anything else in the programme. But soon the mood changed again – and before the very next piece, the Lamentation for Ferdinand III, we heard how its composer, Froberger (after getting mugged on his visit to the UK!) included the final three f-notes as a tribute to the emperor's ordinal number. We were all very familiar with Pachelbel's 'Canon and Gigue' – which was a lovely choice as the concluding piece.
This was a programme rich in variety, technicality, and – surprisingly – entertainment. Some people in attendance had mistakenly assumed it would be an hour… but many of us wanted it to continue much longer than it did. The concluding encore – 'a nasty idea' to use Egarr's own words – was his own adaptation, from the Mikado, of the 'Three Little Maids'. An inspired and inspiring concert throughout.
The performance finished at 12.40pm.
Richard Egarr & Friends, Wednesday 24th August, 11.00am, Queen's Hall