Image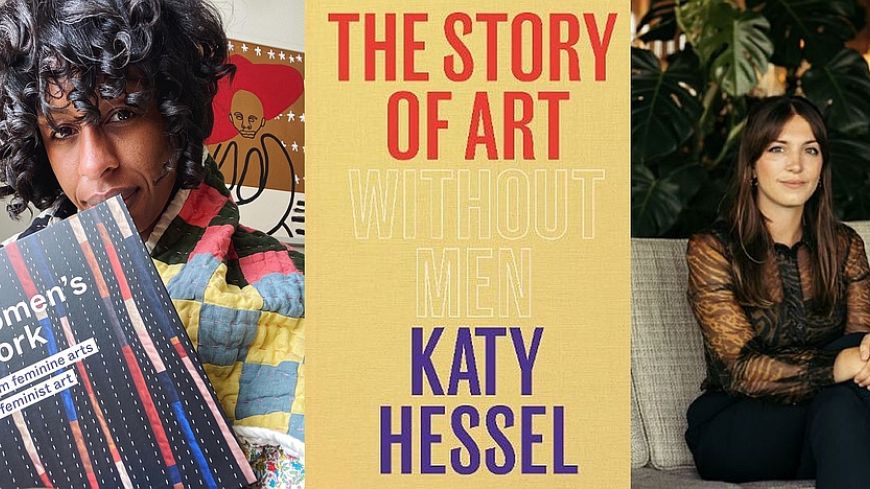 Company
Edinburgh International Book Festival
Performers
Ferren Gipson, Katy Hessel and Leonie Bell (chair)
'The woman artist is an ignored, little understood force, a social prejudice weighs upon her and yet the number of women who dedicate themselves to art is swelling with fearsome speed.' Hélène Bertaux 1881
Ferren Gipson is a British-American art historian, writer, textile artist and presenter of the popular podcast 'Art Matters.'  In her new book, Women's Work: From Feminine Arts to Feminist Art', she relates the cultural heritage of decorative and applied arts which has been separated from the 'high arts' of painting and sculpture, deemed more suitable for women. 
Katy Hessel is an art historian, curator and broadcaster who launched #thegreatwomenartists in 2015, ('queen of social media' Sunday Times), and writes a fortnightly bulletin for the Guardian.  The Story of Art (without Men) investigates why several generations of talented female artists were airbrushed from art history. 
Presented by Leonie Bell, (director of the V&A Dundee), this was a fascinating and eye- opening discussion about the historical imbalance of woman's art, largely denied serious critical appreciation. 
Gipson studied the womanly world of ceramics, weaving, embroidery, tapestry, quilting and collage, selecting artists from Buenos Aires, Harlem, Hamburg, Mumbai and Paris, et al. spanning the past century.  In telling their stories and assessing their legacies, she questions why their artwork has been largely undervalued: here is Elsa Schiaparelli who collaborated with Salvador Dali to create a shoe-shaped hat and dress designs.  Judy Chicago's The Dinner Party is an iconic work illustrating a banquet table ornately laid with embroidered runners, gold cutlery and porcelain plates.  Born in 1973, Billie Zangewa from Malawi sews silk collage tapestries on themes of Black femininity, domesticity and motherhood, gaining attention at the Paris Art Fair and in San Francisco.
Reading from her Introduction, Katy Hessel explains how that at an Art Fair she visited in 2015, there was not one single woman represented. Her book was inspired by Gombrich's 'bible,' The Story of Art, which featured no women in the first edition of 1950.  Her research found that in 18 major museums in the USA, 87% of art is by men and at the National Gallery, London just 1% of their collection is by women.
Linda Nochlin, an American art critic wrote a seminal essay, 'Why have there been no great women artists?' in 1971, the first real attempt at a feminist history of art. So what has changed in the past fifty years.?
The discussion between Leonie Bell and the writers covered the fact that women painters were often viewed as a wife, daughter or muse of an artist, not accepted in their own right.  The French sculptor Hélène Bertaux, quoted above, was remarkable for her central role in the education and recognition of women artists, keen to assert herself as equal to men. Her male nude of a Gallic prisoner earned her a medal and great success but she was referred to as "Mme Léon Bertaux" - her husband's name.
'Painting is not separate from life. It is one. It is like asking, do I want to live? My answer is yes – and I paint.'  Lee Krasner, 1960
Krasner was a scholarship art student, developing her own innovative style of abstraction, and was already an accomplished artist before she met her future husband Jackson Pollock, introducing him to the New York art scene.  While he became world renowned for his Abstraction Impressionism, it was only after his death that her work was recognised with two major exhibitions. For her and Elaine de Kooning, it was all about determination and challenging convention, "we broke new ground".
Georgia O'Keefe commented that she didn't want to be known as a 'woman artist' at all.  There were several avant garde, experimental artists including Louise Bourgeois, Leonora Carrington and Dorothea Tanning, (wife of Max Ernst), whose pioneering role in Surrealism was powerful and richly inventive. But they were not viewed as modern masters alongside Dali, Ernst and Magritte.
Gipson makes the point that the art forms described as 'woman's work' are now being transformed through imaginative experimentation expressing feminism, identity and love.  Progress is happening, agrees Hessel, due to a collective effort by artists and exhibition curators with major retrospectives to highlight previously overlooked women.  In 2020 the Baltimore Museum of Art acquired work only by women for their permanent collection.
Women's art history is, it seems, now being reclaimed.
Women's Work :  Ferren Gipson was published in June 2022 by Frances Lincoln Publishers Ltd
The Story of Art (without Men): Sara Hessel is published on 8th September, 2022 by Hutchinson Heinemann
This EIBF event took place on 20th August, 2022