Image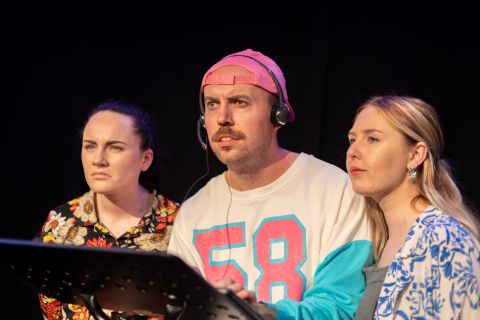 Company
Broadsword Theatre
Production
Sam Eastop (writer), Martha Lochhead (director), StuSoundGuy (sound design), Stuart Tweedie (tech operator), Fraser Nickolls (marketing and design).
Performers
Alexander Cook (Richard), Louise Brooks (Lisa), Sam Eastop (Kieran), Rachel Johnstone (Debbie).
"You're call is very important to us, please continue to hold".
The contact centre's phone lines are busy, but Kieran clearly isn't as he checks out Zac Efron's rock-hard abs in Men's Health, much to the frustration of team leader, Richard.
Kieran's ability to ignore his email based on it being "something about work" and his insistence on calling him Dickie-Boy has him displaying Basil Fawlty levels of barely restrained fury and frustration. Striving Richard needs to keep to Pharmtec the country's number one dietary supplement provider, but already his crack team are cracking and it's only going to get worse.
To help there is new start Lisa, who has experience in that she has used a 'phone, but her manner leaves something to be desired when dealing with callers she describes as "scrotes", much to Richard's discomfort.
Flaky Debbie, who has a side business of carving flowery poems into soap, is late again due to everyday things which she finds unexpectedly complex. When she takes a call there appears to be a menacing voice within the static threatening to devour them all.
Suspicions range from a prank call to the hot fast-food delivery guy that Kieran has creeped out, to a demon ghost alien. Richard will play it by the book using his conflict resolution training, but as the caller pushes their buttons, it appears that there is a darker secret. Putting the 'phones on do not disturb won't protect them from some unnerving events.
This is billed as a horror comedy, which should be a tonal mess but is uniquely equipped to delve into the comedic tragedy of living with various "-isms" and absurd realities. There is more humour than horror, there are no jump scares and it's not much of a roller coaster, but it builds nicely into something truly disconcerting. It's an interesting look at having a soul-destroying job in an immoral big business.
There are many reasons why this production shouldn't work but it will keep you …well … engaged.
Show Times: 15 to 20 August 2022 at 1.55pm.
Tickets: £10 (£8).
Suitability: 16+. Contains strong language / swearing.