Image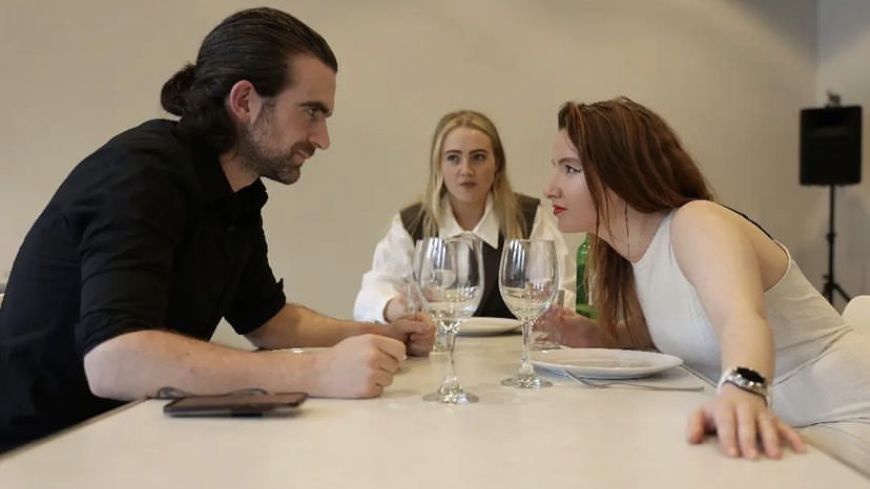 Production
May Hedgehog (director), Faye Draper (writer)
Performers
Conor Burns (Alex), Faye Draper (Mia/Millie), Nina Holland (Laura)
To what lengths will a person go to find some closure? In the case of Closure, the answer is quite an extreme one. Trigger warning for distressing themes of sexual violence and spoilers.
Laura brings her boyfriend, Alex, to meet her friend Mia. However, Alex and Mia realise they know each other from Uni, and their shared history isn't good. Alex discloses to Laura that he and Mia slept together once and says she is dangerous and they need to leave immediately, but she dismisses his concerns and wants to stay. (I found this unbelievable - surely Laura would like to know why Alex felt this way?)
However, we understand Alex's concerns once Mia drugs the couple at the end of Act 1. In Act 2, the plot takes a few twists and turns - Mia, actually called Millie, says she drugged Alex with the amount of GHB he used when he drugged and raped her ten years earlier. As he tries to defend himself, Laura chimes in that she has discovered he was using GHB to drug her at night and rape her too.
The women have come together to get restorative justice and force Alex to admit what he's done and show his true colours, which he eventually does. But that's not enough for them - they need revenge. 
The following scene is shocking, raw, powerful, and visceral; Millie takes back the life that Alex took from her. It truly sent shocks through me; it felt like she took back what every woman has ever lost to a man.
The show's blurb doesn't contain information about the sexual violence themes, there is a small note on the inside of the theatre door, but it could be distressing to audience members - or perhaps provide them with closure.
Tickets here
Suitability: 14+ (Guideline)
Aug 3-29 |15:10