Image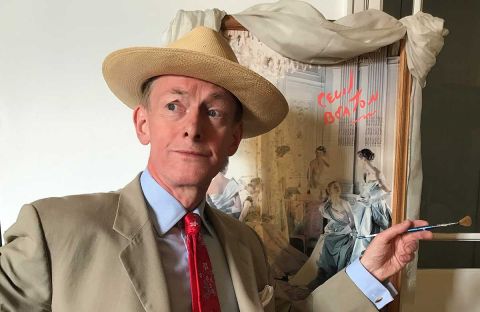 Production
Richard Stirling (adaption, editor)
Performers
Richard Stirling
Sir Cecil Beaton (1904 –1980) was an English fashion, society portrait and propaganda war photographer, painter, theatrical costume designer, as well as court photographer for the Royal Family.
Gliding gracefully on to the stage, in cream linen suit, red floral tie and a panama hat, camera in hand, Richard Stirling epitomises Beaton's crisply tailored elegance and demeanour.  With original photographs on screen, edited extracts from Beaton's witty gossipy memoirs, reveal intimate stories of his public career and private life on a speedy chronological journey.  Experiencing a taste of the aristocratic, theatrical world of the Bright Young Things in the 1920s he realised his vocation:'I want to shine myself'.  
As a society photographer and fashion stylist for Vogue, his life became one long decadent party mingling with writers, artists, theatre and film stars - Noel Coward, Greta Garbo, Laurence Oliver ('second rate'), Audrey Hepburn, Francis Bacon, The Burtons ('I have always loathed them'). A most insightful impression too of Marilyn Monroe – 'an hour and a half late, childlike presence, irresistible mischief.'
A photograph of the Queen Mother, in a white frou frou gown, giant hat and a parasol, is, rather interestingly, very similar to the elaborate costumes he later designed with Oscar winning success for the famous Ascot scene in the film, 'My Fair Lady'.
Beaton was certainly a proud, social-climbing snob, 'I wanted to know the right people'. More than just a tedious game of name dropping, this fine selection of highlights from the Diaries not only paint a picture of Cecil's cool, confident persona but also heartfelt confessions to reveal an emotional vulnerability.  
Through Richard Stirling's sharply focussed, colourful portrayal, we observe the genius artist from the fresh face of youth, bursting with exuberant energy to his twilight years of sad, weary disillusionment; he ages so subtly, losing the sparkle in the eye, voice cracking, right hand shaking, but never losing his passion for fashion, glamour and romance.  
 "I just want to make people beautiful.' Cecil Beaton
Showtimes:
5 – 13 August, @ 10.15; 15 – 27 August @ 12.40.
Ticket prices: £ 14 (£12), £12 (£10).
Suitability: 14+