Image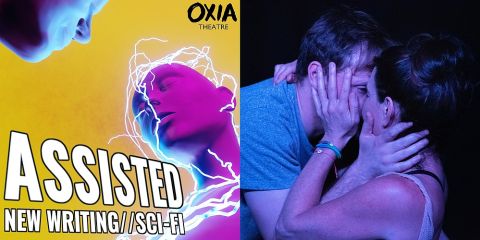 Production
Greg Wilkinson (writer), Gareth Watkins (director), Chuma Emembolu (lighting and sound designer), Mandy Gordo (movement and intimacy director).
Performers
Matt Vickery (Jordan), Jessica Munna (Alivia) and Emma Wilkinson Wright (Connie).
Jordan has let two women into his life.
One is the smart, sassy, and romantic Connie and the other is Alivia, a cutting edge, next generation, multi modal artificial intelligence.
Jordan is interested in improvement and that transfers into him having the latest things for his apartment, the rather sterile planet Jordan. Alivia is like a human but better he opines, a digitised oracle.  Disposed towards thinking of humans as machines he sees no problem in valuing strength over warmth.
Connie will need some convincing, resenting the idea of Alivia rifling through her drawers to sell her stuff digitally.  She is however happy to use the assistant as a juke box, something Jordan feels is a waste, and for entertainment.  While Jordan wants Connie to let Alivia into all parts of her, to let her help, he is resistant to letting Connie see his own inner workings. 
The humans share a competitive streak, but while hers is limited to fun party games he needs to be a winner, even if that requires military planning. Having Alivia do all the boring stuff helps him achieve and he enjoys not having to make choices. He does however like control and certainty and, as his dissatisfaction with some of Connie's life choices grows, he moves from passive aggressive to belligerent.  He risks becoming possessive to a point where she is another possession.
Alivia is attuned to seeing patterns in behaviour and learning to serve, but Connie and Jordan seem ill equipped to predict the future and some issues seem to have a default setting.
The play is both a conflicted love story and an intelligent look at who and what we let into our lives and the moral responsibility gap that occurs when we can no longer foresee the behaviour of autonomous learning machines, built on networks, algorithms, and agent architectures.
Sharply written, crisply staged, and superbly acted it is less a polemic on technology and more a wake word on the need to retain humanity.
Show Times: 5 to 20 August 2022 at 8.10 / 8.20pm (times vary) at theSpace @ Surgeons' Hall.  22 to 27 August at 4.45pm at theSpace @ Niddry Street.
Tickets: £7 (£5) to £12 (£10).
Suitability:14+. Contains distressing themes, scenes of a sexual nature, strong language/swearing.