Image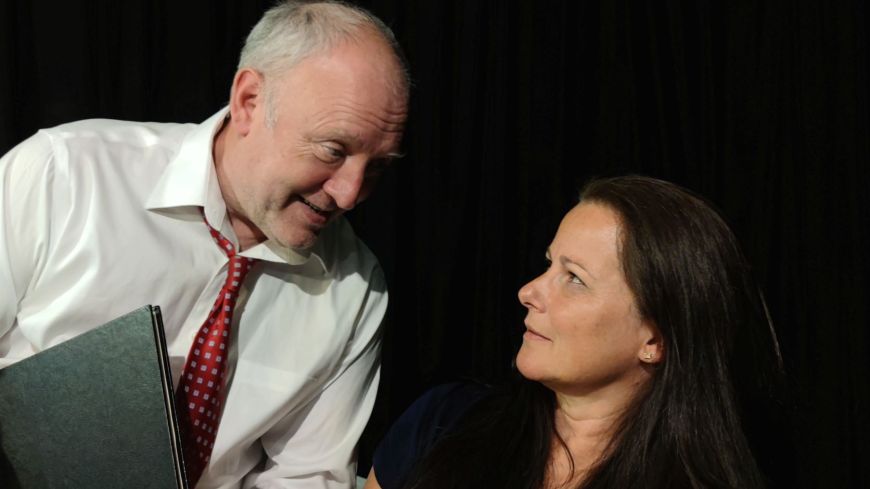 Company
Mountain Hare Productions
Production
Tim Marriott (writer and director), Alistair Fila (producer)
Performers
Nicholas Collett (Jo), Angela Bull (Nicky)
In the shipping container- style space of the Powder Room @ Assembly Rooms, a desk is littered with box files, papers, and a laptop as Sheena Easton's song, 9 to 5 plays on the soundtrack: My baby takes the morning train, He works from nine to five …
With his jacket hung over the chair, Jo, a senior manger in business-like white shirt and tie, is ready for his 11.45am meeting with Nicky, a head of department.  She is casually dressed but no less professional in attitude.  Her annual work appraisal kicks off with small talk and offered  'a coffee, tea', … and then more curiously, 'or perhaps a chilled chardonnay, a Bombay Sapphire, a dry sherry?' This makes her feel a tad uneasy.
Topics discussed include health and safety, VAT (value added targets), CPD (continuing professional development) – Jo delights in corporate-speak acronyms. He bombards her with questions, 'how do you rate your performance this year?' - strengths, weaknesses, how to motivate her staff.  
Jo paces about the office, flicking through paperwork, then standing behind Nicky, rather too close for comfort in an intimidating, and at times, flirtatious manner. His manner shifts from warm and welcoming to dismissive and deprecating.
Their discussion is slickly directed like a mixed singles tennis match - verbal volleys smashed to and fro, each firing back quick shots in a battle of semantics, grammar and language. Nicky, played with cool, calm composure by Angela Bull, fights her corner, well versed in the Classics and Contractural rights. 
The narrative brings to mind the BBC situation comedy, The Office, beloved for its tedious colleagues, pointless tasks and David Brent, the manager from hell - tactless, talentless, prejudiced, cowardly and conniving.  Here, Nicholas Collett succinctly portrays similar egotistical traits with smug pomposity.  
Switching between sharp witticism and chilling harassment this is more of a confrontation than a conversation. Akin to the scenario between a professor and student in David Mamet's Oleana, this is also an astute study in miscommunication - as Jo crisply comments, 'it's one person's word against the other.'
In this perfect intimate setting, the well measured tone and tempo of the dialogue meanders around a convoluted maze of twists and turns with humorous, dramatic punch.
Showtimes:  17 – 27 August @ 11.40
Ticket prices: £ 12.50 (£11.50) £11 (£10)
Suitability: 12+