Image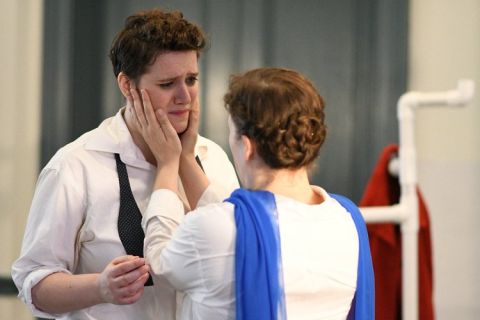 Company
Sherman & Friends
Production
Mara Sherman (director), William Shakespeare (writer)
Performers
Hannah Sweet, Nicola Collett
How is A Two Woman Hamlet actually performed? They get rid of 3/4 of the play (keeping the juiciest parts) and bring nearly every character to life using a necktie, two scarves, a sailor's hat, a bowtie, a beanie, a red coat, a pair of glasses, a waistcoat, a pin badge, and a bucket and shovel.
If that isn't impressive enough, I was open-mouthed at the sheer pace of Collett and Sweet's movement and dialogue - I'm not sure when (or if) they found time to take a breath. And yet not one word was stumbled over; there wasn't one un-intended pause, and not one incorrectly grabbed prop. They are truly mistresses of their craft.
My favourite bit was when each woman would take on multiple characters at once and dialogue with themselves, switching back and forth from a pair of glasses to a scarf, having an argument for two all by oneself. 
Collett's swordfight using PVC pipe fight with herself as both Hamlet and Laertes at once was easily the highlight of the show.
If you aren't at least moderately familiar with the original production of Hamlet, it may be a little challenging to keep with the dialogue and glasses and hats. But even if you've quite literally lost the plot, you'll still be entertained. 
Tickets here.
August 5-27 | 17:15​​​​​​​
Suitability: 12+ (Guideline)