Image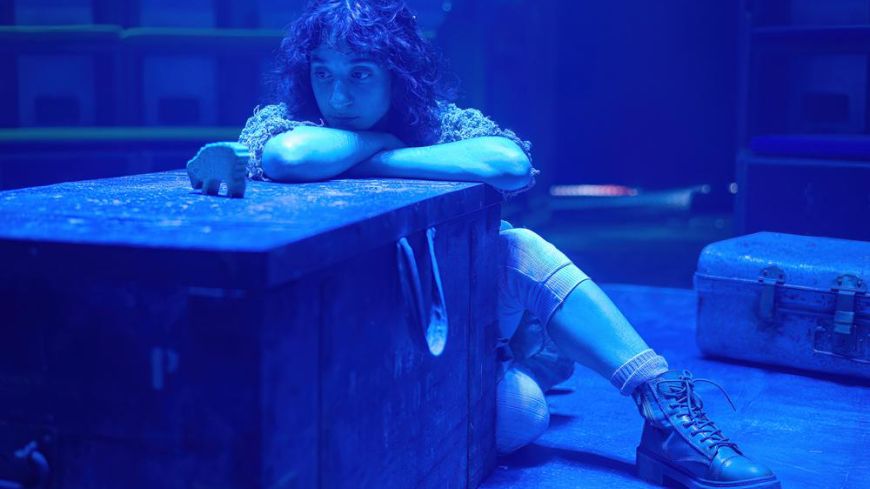 Company
Paines Plough, Rose Theatre Kingston, in association with Gate Theatre
Production
Sami Ibrahim (writer), Yasmin Hafesji (director)
Performers
Sara Hazemi (Elif), Samuel Tracy (Landowner's son), Princess Khumalo (Landowner, Elif's daughter Lily)
Sami Ibrahim's compelling fable on the British asylum system paints a fantasy island where sheep float when not sheared and rain is hoovered up, shearing and hoovering being jobs we see hopeful refugees doing while waiting for an audience with the King and ultimately a coveted acceptance as an official subject within the gates. 
Stories where babies grow in the earth are inherently whimsical, but this is far from a fairytale. In A Sudden Burst of Violent Rain, NRPF might as well mean No Recourse to Public Fallacies, as the mythic text lays bare the harsh reality of the hostile environment using metaphor and grit, especially as we face the recent cementing of the Nationality and Borders Bill. Our asylum-seeking protagonist, Elif, dances the misfortunate one-step-forward-two-steps-back routine those with lived experience of the asylum system know all too well, inviting the audience along to beg the question, "Is this even worth it?"
Also exploring mother-daughter relationships amidst emigration struggles, third culture experience and the actuality of human trafficking and financial exploitation born from the often nonsensical and needlessly cruel bureaucracy built into the asylum system, this in-the-round piece conveys deep themes with only strong actors, simple but powerful props and seamless direction by Yasmin Hafesji.
The truth within the tale is sobering, yet the imaginative telling of this parable makes it fanciful enough to entertain while firmly placing the hearts and minds of the audience in the squishy, rain-soaked shoes of a refugee with same dreams, talents and aspirations as they have.
A Sudden Burst of Violent Rain tickets: here
Aug 18-20, 22, 24-27
Suitability: 12+ (Guideline)
photo by David Monteith-Hodge