Image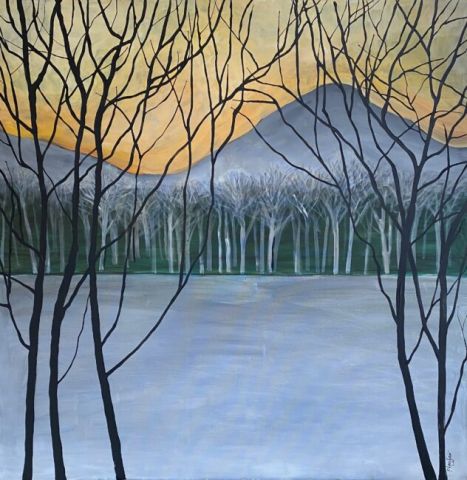 Production
Rosie Playfair
If you go down to the woods today, you're sure of a big surprise ..!
Trees etc is the second solo exhibition by Rosie Playfair, featuring more than sixty paintings which takes you on an invigorating walk through woodlands and forests through the seasons. Here, Here dogs enjoy a scamper to find rabbits but also lurking in the undergrowth - perhaps no teddy bears having a picnic - but you might spot a colourful zebra or leopard creeping through a lush jungle.  
Rosie Playfair graduated from Duncan of Jordanstone College of Art in Graphic Design and  then developed a successful career as a PR consultant with occasional interior design work. After 25 years in business marketing, a friend encouraged Rosie to use her serious artistic talent and return to drawing and painting professionally.
The attractive display around the Dundas Street Gallery showcases bold, colourful landscapes as well as monochrome drawings, in which trees of all shapes and sizes are placed centre stage.  The icy chill of winter is depicted with a minimalist touch – tiny white dots for a light flurry of snowflakes and thick marks made with a kitchen scourer reflects a wild blizzard.  
The phrase, 'you can't see the wood for the trees' is quite literally the case in these majestic studies of a woodland in which the viewer will feel submerged and surrounded by tall birches with perhaps a scattering of golden Autumn leaves.  The winter scenes are brilliantly atmospheric, depicting the various shades and rough texture of grey, brown and silver bark with the elegant, slender skeletal shapes of leafless branches.
"It's the exploration of how many different ways you can depict trees that inspires me. I like to change my techniques, colours and scale to play with the concept of trees, so my trees are not like photographs. Although some are based on real life, many are from my imagination. I cannot look at trees and forests now without seeing them as a work of art." Rosie Playfair
Tangerine Sky, illustrated above, is a most captivating, finely crafted composition, leading the eye across the snowy field to the dark woodland and silhouette of the hill beyond, bathed in the soft light of the orange-salmon tinted sky at dusk. 
These paintings do not aim to convey a realistic, botanical viewpoint but are imaginatively stylised for more of a decorative design. The impressive collection of black ink drawings are almost abstract in form with a pattern of close up tangles of bare branches and the gnarled, nobbly wood of the tree trunks.  
As a regular visitor to France, (in normal times), here too are charming iconic scenes of Parisian café-bars, the waiters parading in their long white aprons around the tables. Also a glimpse of warm summer days in the square of a French town with the sunlight dappling through the lush green leaves on the trees. 
Rosie Playfair's work can be found in private collections in London, Edinburgh, Aberdeen, Paris, Italy and St Tropez, and there have been recent gallery exhibitions in Edinburgh, Stirling, Dollar and Dundee. 
This is a most evocative journey from Scottish Highland forests to a tranquil lochside, city streets and gardens capturing the natural beauty of trees in both a dramatic mood and with playful humour and wit.
Show times:
2 – 7 September, 2021
Opening times: 10:00-16:00 daily