Image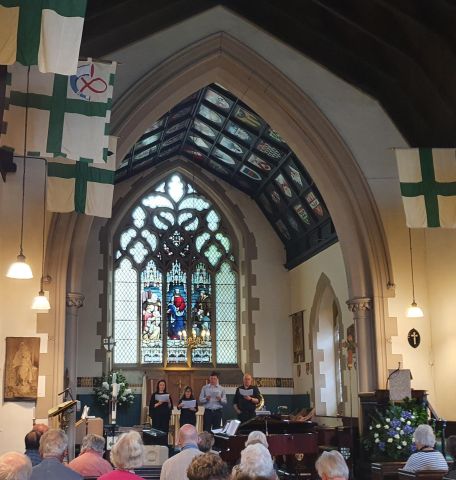 Company
Sacred Arts Festival
Performers
Dr John Kitchen MBE (speaker), Les Shankland (organ)
A humorous and engaging hour exploring the art of hymnody with Dr John Kitchen MBE. Using six examples for illustration and structure, Dr Kitchen uncovered some of the less famous facts about familiar hymns, to give us a taste of the more complex history that has underpinned the processes of composition and compilation.
We began with the well-known 'Veni Emmanuel', the powerful and central hymn associated with Advent. It was a lovely addition that throughout the afternoon, three or so verses from each of the hymns were sung by an SATB quartet from Old St. Paul's, and these were proficiently performed.
Dr Kitchen then explained to us how the 5 verses of the second example – 'Dear Lord and Father of Mankind' – are actually the conclusion of a much longer Quaker poem, 'The Brewing of Soma'. We were told how the plea to 'forgive our foolish ways', in that original context, derided such things as 'music, incense, [and] vigils drear' – rendering it somewhat ironic that a section of the work is now one of the best loved of hymns!
Similarly, many will have learned something new to realise that the 'Bach' Chorale tunes of our hymnals were not actually original to him, but that he had instead subsequently provided the (often elaborate) choir harmonies; we heard 'The Lord ascended up on high' as a concrete example of this.
Further on in the hour, we were told how Vaughan Williams, compiler of the English Hymnal in 1906, banished 'Sweet Sacrament Divine' to his veritable 'Chamber of Horrors'! It was in ways like this that Dr Kitchen's amusing and personable delivery gripped our attention – the anecdotes which peppered the talk were thoroughly entertaining, and charmed and held the audience throughout.
The performance finished at 2.10pm.
The Art of Hymnody, Tuesday 17th August, 1.15pm, St Vincent's Chapel
Tickets for other events throughout the week at www.edinburghsacredartsfestival.org