Image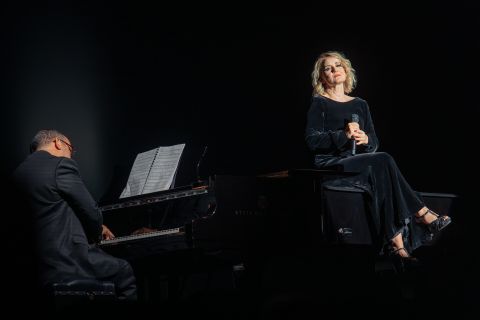 Company
Komische Oper, Berlin
Production
Kurt Weill, (Composer) Barrie Kosky (Musical arrangements, Director)
Performers
Katharine Mehrling, (singer), Barrie Kosky (pianist)
Willkommen and bienvenue, welcome, I'm cabaret, au cabaret, to cabaret!
First performed at the Komische Oper, Berlin in December 2019, 'Lonely House' is a scintillating and sassy showcase from Kurt Weill's émigré songbook composed in Paris and New York. Weill is best known for his theatrical collaboration with Bertolt Brecht, notably 'The Threepenny Opera' and 'The Rise and Fall of the City of Mahagonny'.  In March 1933, he and his wife, the singer, Lotte Lenya, blacklisted by the Nazis would soon be arrested: they were forced to flee - first to France and then, in September 1935, to America. They would never return to Berlin.
In New York he set out to develop a unique synthesis of classic European music and Broadway theatre, a new genre, 'American opera'.
'Street Scene', (1946), illustrates a day in the life of tenement residents, NYC. With Puccini-esque harmonies and jazz dance routines, it was awarded a Tony Award for Best Original Score, which includes the aria, Lonely House.
With Barrie Kosky at the Steinway grand piano, Katharine Merhling stands at the microphone to sing the soft, sultry lyrics, "At night when everything is quiet, This old house seems to breathe a sigh .. Sometimes a distant telephone, Then the night settles down again, The house and I are all alone .." a bluesy number, performed with breathless pause and slow pace.
Dressed in a long black, backless velvet dress, the dark shadowy stage softly lit, Mehrling evokes the intimate mood of a nightclub Cabaret. The varied programme of French chansons and American song from 1934 to 1948, range in musical style on a romantic theme.
I'm a Stranger Here Myself, ('One Touch of Venus' 1943) is a stunning, raunchy jazz number (seductively performed, lying on top of the piano), and in which Kosky lets rip with a dramatic crash of chords and vivacious rhythm.  
Weill's musical, 'Knickerbocker Holiday' (1938) may be unfamiliar, but September Song was a smash hit for Frank Sinatra and became a pop standard. 'Oh, it's a long, long while from May to December, But the days grow short when you reach September.'  -  this is beautifully poetic.
Sung in perfect French, Youkali (1934) clearly reflects Weill's yearning to return to Germany, 'youkali, the land of our desire and dreams,' blending plaintive tone and foot-tapping tango beat.
Weill collaborated with Ira Gershwin on the Broadway show, 'Lady in the Dark'  (1941), featured here in a charming medley of narrative songs, My Ship, The Saga of Jenny and One Life to Live.
To give a cultural context to the music, Barrie Kosky, (director of the Komische Oper) gave a brief biography on Weill's life and career from Berlin to his time in exile. He passionately believes that he was unique, one of the greatest composers of the 20th century and revolutionised the Broadway musical. "Without him there would be no Stephen Sondheim".
Katharine Merhling is simply captivating her vocal range shifting from soft lullaby to richly resonant and soaring soprano notes with silky smooth purity. As a versatile musical star, (Cabaret, Piaf, Evita, End of the Rainbow), these romantic songs are theatrically performed with sensual, soulful emotion.  
This cool Cabaret is a masterly double act - a slickly-crafted, charismatic homage to Kurt Weill and his innovative creation of American Opera.  
Show times:
20 -21 August, 2021, 21:30.
Run ended