Image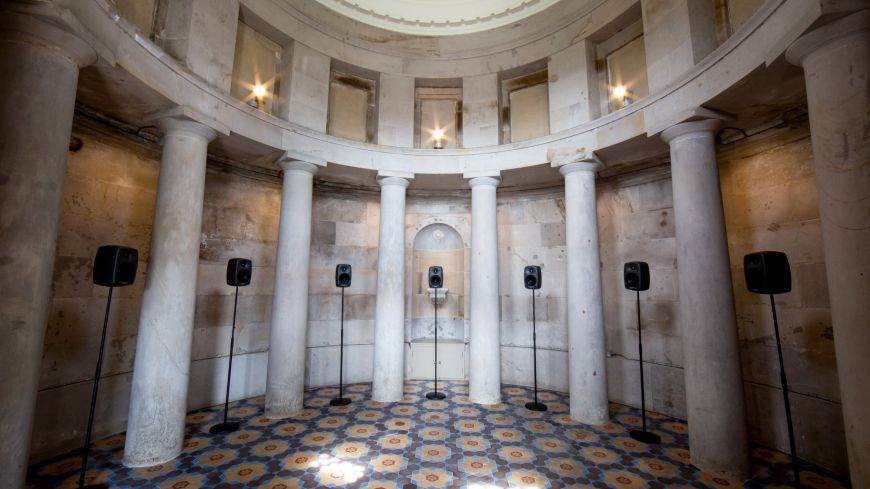 Production
Emeka Ogboh (artist), Edinburgh Art Festival
The Burns Monument sited on Regent Road in Edinburgh has been a good choice of venue to realise the vision of Nigerian born artist Emeka Ogboh, one of the installations at this year's Edinburgh Art Festival.
Completely circular it puts real meaning into the concept of surround sound. Inside the 19th Century edifice the voices of singers from each of the 28 countries who were members of the European Union before the UK's exit in 2020 deliver, in their mother tongues through twelve speakers and a seven channel sound installation, an infinite loop of Robert Burn's Auld Lang Syne.
The voices, recorded in Edinburgh and Glasgow, are of singers who, for various reasons, did not meet the residency requirements that would have entitled them to vote in the 2015 Referendum which, by a narrow margin, deemed that the UK leave EU.
Listen carefully and you will catch a phrase in English, but it is elusive as it merges ghost-like into the body of sound – one that could have, in less expert hands, resulted in a cacophony. Instead the voices succeed in being unified and distinct at the same time, paying tribute to a European internationalism.
Step out of the monument and into the summer sunshine and you will be delighted with views south down the East Lothian coastline and across to the cliff skirting Radical Road in Holyrood Park. And round the back of the monument is a surprise – another rendition of Auld Lang Sang, this time in Gaelic, though still with an echo of an English version, coming from a solitary speaker camouflaged, almost military style, amongst the rhododendrons.
Ogboh who currently works between Lagos and Berlin has good form with sound installations. In 2015 he created "The Song of the Germans" in which ten African immigrants living in Berlin sang the German national anthem.
The Edinburgh installation has been brought to fruition in a collaboration with the Talbot Rice Gallery. Ogboh worked with the recorded voices through computer programming and algorithms. One wonders what he would come up with if creating a sound installation following a Scottish referendum on independence which resulted in the break up of the United Kingdom.
"Song of the Union" runs 29th July - 29th August as part of the Edinburgh Art Festival. Book online.
The Burns Observatory is open daily daily, 10am – 5pm.