Image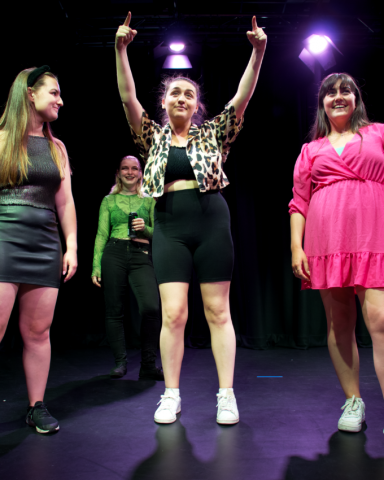 Production
Rachel O'Regan, (playwright), Hannah McEachern (director), Sean Quinn (lighting and sound designer), Linzi Devers (fight choreographer)
Performers
Sally Cairns (Lexi), Linzi Devers (Jess), Kirsten Hutchison (Corrie), Emily Pemberton (Rhiannon), Annie Welsh (Ella)
Five friends, Lexi, Jess, Corrie, Rhiannon and Ella are joyfully exuberant - final exams are over, it's the end of term and their last day at school. Racing off to Ella's house, they strip off blazers, micro skirts and purple ties to glam up in their party frocks for a night out at the Disco. "Time to get wasted" is the plan, "but no boys, fighting or drugs."
With Spice Girls and Justin Bieber on the soundtrack, they down the shots, dancing away and singing along to "Girls just wanna have fun."  Their energetic, feisty fun is brilliantly portrayed, tripping down steps in their high heels, giggling and laughing without a care in the world.
As well as crisply choreographed numbers, the scene is imaginatively directed with intimate vignettes – shadowy snapshots of two girls chatting together while others stand in filmic freeze -frame style.  As more double vodka tonics are ordered, they are becoming more inebriated, but which one suggested "Let's break into the school!"?  Cue, the sound of police sirens piercing the night air. 
No plot spoiler here but a few months later, the girls meet up again in a local park now in a sombre, sober, serious mood.  Their individual plans to get to university, find a good job or move to London have vanished, the future looks bleak, stuck in a "schemie nothingness" and a life on benefits. They are now more strangers than close friends.
Characterisation is spot on, from Corrie the loud, party loving, rule breaker in cahoots with jolly Jess, the class joker who also likes to have fun. Lexi is determined to escape this godforsaken small town and a life of poverty, the rather timid Ella comes from a wealthier, middle class family but lacks confidence, and Rhiannon finds it difficult to study as she cares for her grandmother.
This scene in the park is rather drawn out as they just stand around engaging in fiery banter and bickering.  A more dramatic finale would be to move from the park to a pub where they discuss what really went on that night after the party.  A lively bar with jukebox playing would add atmosphere and create a neat full circle return to scene one – drinks to celebrate the last day at school and now a round of stiff martinis to drown their sorrows.
F-Bomb Theatre is a new Scottish company with the aim to present work written, directed and performed by women. Afterparty is a slick, sparkling and sassy debut - pin sharp wit, dramatic insight, honesty and truth, switching from moments of hilarity to heartbreaking emotion. A terrific ensemble cast all round with Kirsten Hutchison and Sally Cairns showcasing superb comedic timing and talent.
As part of the Traverse Fringe programme 2015, The National Theatre of Scotland staged Our Ladies of Perpetual Succour, a raunchy, riotous musical drama about six Convent School girls drinking Bacardi and behaving badly over 24 hours. It won a Scotsman Fringe First and went on to great success in London and a UK tour.  
Likewise, Afterparty deserves wider theatrical success and a Scottish tour.  These characters and storyline are also the perfect ingredients for a TV soap opera following the drama, dreams and disillusionment of the girls' lives and loves in this small town.
Show times:
8 – 28 August, even dates only @ 16:50pm
Ticket prices: £9.50 /£6.50
https://tickets.edfringe.com/whats-on/afterparty