Image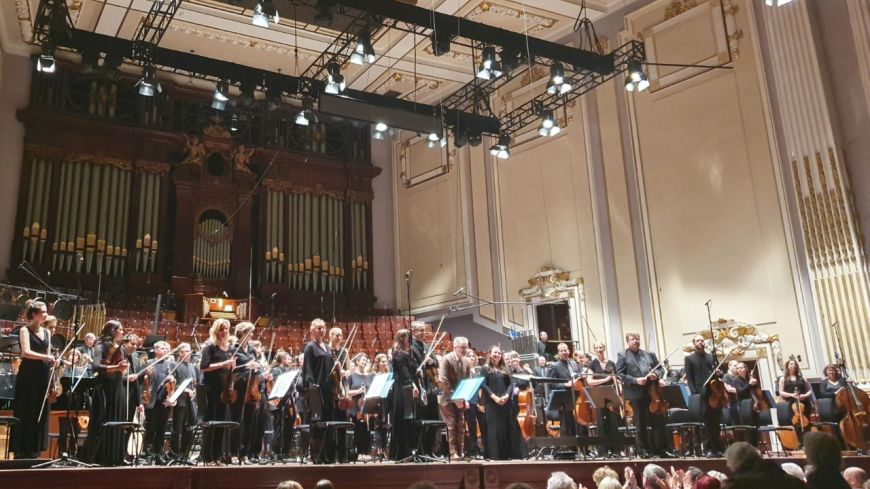 Company
BBC Scottish Symphony Orchestra
Production
A Scottish Bestiary & Woman of the Apocalypse (James MacMillan)
Performers
Joana Carneiro (conductor), Stephen Farr (organ)
Both Scottish premieres, two profound and powerful works that had the Usher Hall enthralled.
A Scottish Bestiary is a satirical but serious work, and Elgar, Saint-Saens and Musorgsky are MacMillan's inspiration here. Their influences are clear, even from the composite subtitle, "enigmatic variations on a zoological carnival at a Caledonian exhibition" (cf. 'Enigma Variations', 'Carnival of the Animals', 'Pictures at an Exhibition'), but with a cheeky Scottish twist. Above all, it is the appeal to the tradition of musical portraiture that is the scaffold and foundation for this work.
Split into two sections the first is entitled 'The Menagerie, Caged', and introduces us to a catalogue of creatures in a succession of chapters, interspersed by a restated refrain as the pages are turned. In the second, the menagerie is uncaged – almost like the emptying out of the Ark; a chaotic cacophony ensues, but in a frenetic fantasia where the major musical ideas from the first part are still clearly discernible. Further animals are added, immediately recognisable without any commentary (barking and roaring sounds!) – all part of the humorous genius of this composition.
A concerto composed not only for orchestra, but also for organ, the combination of the two for over half an hour continuously was a real treat. It was marvellous to see the magnificent and restored Norman & Beard instrument given extended and indulgent prominence, with its wealth of orchestral reeds and strings, the multiplicity of its stops being cleverly deployed in the mimicking of the animals. By contrast, there was even a hymn accompaniment for the Reverend Cuckoo and his Parroting Chorus!
Though without the comedy, 'Woman of the Apocalypse' increases the gravity. One great movement of ascent, there is almost a gladiatorial feel to this piece, which is nonetheless based on the Assumption of the Blessed Virgin Mary – the Feast of which fell two days earlier. Comprised of five sections, it is yet one continuous work, and is strongly patterned on the biblical narrative of Revelation 12, on which its vast and escalating drama relies; to that extent, knowledge of the text does help. Aided by the bellowing and deep declamations in the brass choir, combined with surging on strings and percussion, we were left in no doubt as to the crisis and climax the work communicates.
Thus this captivating recital appealed at many different levels; at the end we were thrilled to cheer MacMillan himself. This resounding performance finished at 6.05pm.
BBC Scottish Symphony Orchestra, Saturday 17th August, 5.00pm, Usher Hall