Image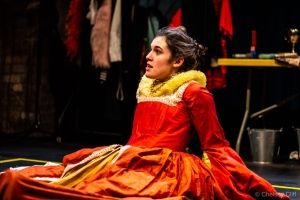 Company
FullRogue / Pleasance / Bristol Old Vic Ferment
Production
Marek Horn (writer), Julia Head (director), Joseff Harris (creative producer and sound designer), Ruby Gilmour (producer), Zoë Brennan (designer).
Performers
Alice Lamb (Nell), Annabel Baldwin (Oscar).
"We begin our poor play in the late 16th or perhaps early 17th Century – time is elastic in the theatre".
As the contemporary music changes to a renaissance lute song we meet Nell and Oscar on a Dorset beach; somewhere they will return over the course of the next 400 years.
But today Oscar has been out for a swim. Seeing himself as a heroic scholar and poet in the making he is convinced that all great men swim and that writing and swimming are connected. Nell is having a dull time of it during a "gap year" while she waits to be married off. 
They are out of stroke over his admiration of Byron for his swim across the Hellespont. She is withering on any connection with sexual prowess and he disdainful of her privileged ownership of the beach.
A quick change sees Nell in 1800's costume, stranded on the now shared beach due to lack of staff for the bathing machines which ladies must use.  She is somewhat comforted by Jane Eyre but things have got distinctly shittier. Time contracts to a point between the Wars and Nell has not been treading water, she has been travelling and her poetry is being published.  In the present-day Oscar is struggling with shifting goalposts of what is appropriate and wants to go back to a better time.
There is movement and a need to move on, but there comes a point in rescuing a drowning swimmer that one must be careful not to be held down.
The telling is wild and hugely playful. Time is not the only elastic element as the charismatic actors bounce around the stage and off each other, diving into clothes and storage lockers for toys and snacks. Using anachronistically modern language throughout they ad lib and comment amusingly on the play and their own performances.  It's not only the fourth wall that should break but it all stays afloat.
Some of the historical underpinnings get a little submerged, but it cleverly uses swimming as a transformative experience and its literary associations to look at change in marriage, love, gender boundaries, privilege and more.
Fresh and bracing. 
Show Times: 31 July to 26 (not 7, 13, 20) August 2019 at 12.45pm.
Tickets: £10 (£8) to £12 (£10).  Families £32 to £40.
Suitability:14+.