Image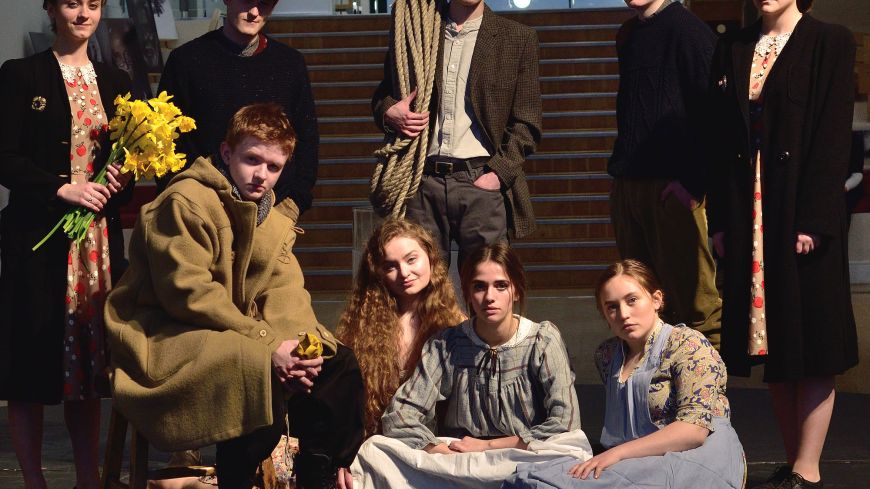 Company
Malvern Theatres Young Company
Production
Dylan Thomas (Writer); Nic Lloyd (Director); Matt Cox (Technical Director); Ben Merrick (Lighting Designer); Ben Carter (Sound Designer); Bridget Lloyd (Costume Designer); Kate-Anne Fenton (Choreographer); Michael Wilson (Company Manager); Alan Griffiths (Stage Manager); Paul Ralph (Deputy Stage Manager); Laura Cadwell (Production Technician); Fred Moroni (Marketing Director); Louise Thomas (Marketing); Anita Sherwood (Photography); Rhiannon Williamson (Company Administrator); Catherine Norris (Edinburgh Tour Administrator); supported by Malvern Theatres Association; additional thanks to Our Star Theatre Company and Market Theatre, Ledbury
Performers
Emily Henry (Voice One); Roma Farnell (Voice Two); Jennifer Thompson Chatburn (Voice Three); Rhys Harris Clarke (Captain Cat); Zoe Hutton (Miss Price, Mrs Beynon, Mrs Cherry Owen, Mrs Waldo/Wife/Mother, Fourth Neighbour, Third Woman, Mai Rose Cottage); Alina Allison (Rosie Probert/Woman's Voice, Mrs Pugh, First Neighbour, Another Mother, Fourth Mother, Fourth Woman, Mrs Organ Morgan); Lizzie Jones (Polly Garter, Mrs Ogmore-Pritchard, Mrs Willy Nilly, Third Neighbour, Little Girl, First Woman); Jason Johns (Rev Eli Jenkins, Mr Pritchard, Fourth Drowned); Lexi Henry (Lily Smalls, Mrs Dai Bread 1, Mrs Dai Bread 2, Second Neighbour, Second Woman, Fifth Woman); Daniel Davis (Mr Mog Edwards, Mr Cherry Owen, Mr Ogmore, First Drowned, Second Drinker, Organ Morgan); Ben Mowbray (Mr Waldo, Mr Pugh, Mr Dai Bread, Mr Beynon, Mr Willy Nilly, Third Drowned); Sean Merrick (Second Drowned, Fifth Drowned, No Good Boyo, Lord Cutglass [narration], Guide Book, Preacher, Little Boy, Fisherman, Child, First Drinker)
An exquisite production of Dylan Thomas' play, this young company demonstrate the strength of theatre by allowing the beauty of words to shine through. Thomas' lyricism is clearly and dynamically presented, working particularly well in the round thanks to the skill of director Nic Lloyd.
Using only one prop and specifically timed staging, the world of Llareggub is brought to life. Because of the nature of this play it is extremely important that the words are spoken clearly: through the voices of this ensemble, the words and sounds of the piece become palpably alive, flowing effortlessly around us. The various characters are very clear with such a strong and capable ensemble - all of the young actors are given an opportunity to demonstrate their skill which they do with an ability well beyond their years, powerfully engaging the storytelling on and around the stage.
The musicality of the language and the choreography of the movement on stage work together beautifully, with some particularly evocative chorus sections. This is a production that truly allows the poetic genius of Thomas' language and storytelling to take centre stage and should not be missed.
Times: 14-17 August, 3:50pm