Image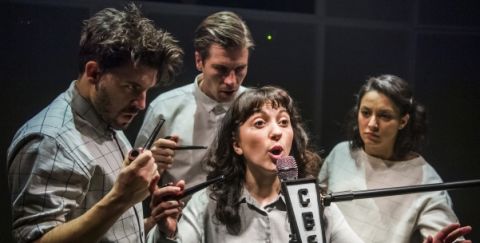 Company
Rhum and Clay Theatre Company in association with The Pleasance.
Production
Isley Lynn (writer), Hamish McDougall and Julian Spooner (directors), Matthew Wells (movement), Bethany Wells (Set and costume designer), Nick Flintoff and Pete Maxey (lighting designer), Benjamin Grant (sound designer), Sally Cowling (executive producer), Hannah Tookey (producer).
Performers
Jess Mabel (Meena), Julian Spooner (Jonathan / Carl Phillips), Amalia Vitale (Lawson), Matthew Wells (Ted / John).
"We know now that in the early years of the 20th century, this world was being watched closely by intelligences greater than man's". Scrutinised and studied with envious eyes, slowly and surely they drew their plans against us.
The cast play interchangeable Orson Welles, characteristic pipes clench and gesture as they circle the studio microphone preparing for the revolutionary 1938 broadcast of 'War of the Worlds', a mix of general programming, interrupted by "news" broadcasts of an alien invasion.
Radio is at the height of its powers and huge glowing receivers could channel a dance band, put Adolf Hitler in your living room, or drop an alien outside your front door. How could people be hoodwinked into believing this clearly stated fiction presented as fact to a degree that panic appears to ensue?
In the modern-day, young podcaster Meena finds a possible story of a young girl abandoned in her family's flight from the extra-terrestrial terror.  Wanting a bigger story that resonates with the now, she travels to Grover's Mill, the site of the fictional invasion.  There she finds commemorative sites, a themed café – a reality made from fiction.
Posing as a relative she invades the lost family in the hope of uncovering secrets and lies.  What she finds in part is a new strand of fake news driven by analytics and algorithms.  What if none of it is real, just bullshit driven by ad revenue?  She needs to decide on the story that she is going to tell.
Slickly told, the fast-paced action moves back and forward between a recreation of the classic broadcast and Meena recording her conversations.  It's done with the company's trademark humour and physicality aided by high production values. The family elements do ultimately feel like the devices that they are but also enable the allusions on modern-day "fake news" without being overly didactic.
Exciting, entertaining and intelligent – that's a fact.
Show Times: 31 July to 26 (not 14) August 2019 at 3.20pm.
Tickets: £13 (£12) to £15 (£14).
Suitability: 12+.